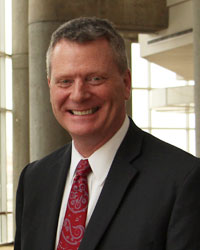 Michael K. J. Milligan, PhD, PE, CAE
Executive Director
Chief Executive Officer
Michael K. J. Milligan is the Executive Director and Chief Executive Officer of ABET, the global accreditor of college and university programs in applied science, computing, engineering and engineering technology.
Under his leadership, the organization has increased its geographical reach and diversity, now representing 35 member societies and accredited programs in 29 countries. Prior to joining ABET in 2009, Milligan held various leadership positions in the government and in academia. He also served 24 years as a career U.S. Air Force officer.
Milligan has a Ph.D. from the University of Texas at Austin, an M.S from the University of Massachusetts at Lowell, and a B.S. from Michigan State University – all in electrical engineering. He also earned an M.B.A. from Western New England College, Springfield, MA, is a registered Professional Engineer (PE) in Colorado and Maryland and a Certified Association Executive (CAE).
Milligan lives in Severna Park, MD, with his engineer wife and their two sons.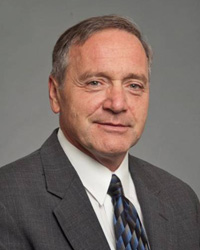 Wayne Bergstrom, PHD, PE, D.GE.
ABET President
Wayne Bergstrom is ABET President-Elect. His engagement with ABET began as a program evaluator in 1993. Since then, Bergstrom has filled a variety of roles within our organization, including evaluation team chair and EAC Commissioner, where he served five years on its Criteria Committee. He served five years on the ABET Board of Directors, sitting on its Executive, Finance, and Governance Committees, as well as the Global Council.
A licensed professional engineer in multiple states, Bergstrom has been granted certification as a Diplomate, Geotechnical Engineering by the Academy of Geo-Professionals. He holds a BSCE degree from Michigan Technological University, a MSCE from Purdue University, and a Ph.D in Civil Engineering from the University of Michigan. A Fellow of the American Society of Civil Engineers, he is also the 2013 recipient of ASCE's Excellence in Civil Engineering Education Leadership Award.
Currently, Bergstrom is a Principal Engineer at Bechtel Infrastructure and Power Corporation, in Frederick, Maryland. He lives with his wife in Virginia and enjoys skiing and bicycling as hobbies.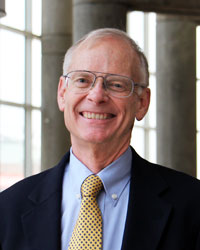 Lawrence G. Jones, PhD
ABET Past President
Lawrence G. Jones is 2015-2016 ABET President. Prior to becoming a member of our Board of Directors, he served many years as a program evaluator and as a CAC (Computing Accreditation Commission) Commissioner. He is a past Chair of the CAC and the ABET Accreditation Council.
Recently retired as a Distinguished Principal Researcher from the Software Engineering Institute (SEI) of Carnegie Mellon University, Jones led a number of research and customer projects, including applied research in software architecture and software product lines. Prior to joining the SEI, he served a career in the U.S. Air Force and was the Chair of the Computer Science Department at the U.S. Air Force Academy.
Jones is an ABET Fellow, a CSAB Fellow, a Senior Member of the ACM, a Senior Member of the IEEE, and a member of the Arkansas Academy of Computing. He holds a PhD in computer science from Vanderbilt University, MS and BS degrees in industrial engineering from the University of Arkansas.
An enthusiastic mountaineer and hiker, in addition to extensive climbing in the European Alps, he has climbed the highest 100 summits in his home state of Colorado.