Continuous Improvement Assessment Forum (CIAF)
09/28/18
---
Event Details
Upcoming Workshop
Sept. 28-29, 2018
Day 1     8:30 a.m. – 4:30 p.m.
Day 2     8:30 a.m. – 2:00 p.m.
Description
This new, interactive forum provides a facilitated experience for program teams to analyze and improve their current assessment and evaluation processes. Over the course of two days, participants will work together on a series of activities that include short "best practice" presentations, peer evaluation of program assessment, and evaluation materials brought by teams.
Experienced facilitator Gloria Rogers will provide hands-on guidance throughout the program, offering each team feedback on their current processes and plans for improvement. At the end of the course, participants will leave with individual program team action plans.
As our first group program offering emphasizes teamwork and participation, we cannot accept individual registrations. Teams must have a minimum of two but no more than five members, and must register together. While we require at least two per team, we believe that a team of three is ideal, so we're offering you 50 percent off registration of your third and fourth team members.
To maximize the experience, we recommend that at least one team member has attended Fundamentals of Program Assessment Workshop or the Institute for the Development of Excellence in Assessment (IDEAL).
Address
ABET Headquarters
415 N. Charles St.
Baltimore, MD 21201,
Other Details
Cost
$700 per person. Price includes lunch and all materials.
A minimum of two registrations is required.
Register now and receive 50% off registration for your 3rd and 4th team members.
Registration closes September 7.
Hotel
Hotel Indigo Baltimore
$149/night. includes breakfast
Address: 24 W. Franklin Street, Baltimore, MD 21201
Contact: Kathleen Dombrowski
Telephone: 443-961-3402
---
Speakers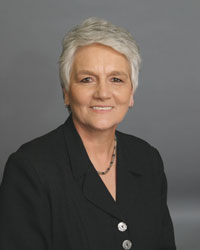 Gloria Rogers, Ph.D.
Gloria Rogers, Ph.D., is currently serving as a Senior Scholar for the Higher Learning Commission (HLC) of the North Central Association. In this role she is a mentor for institutions participating in the HLC‐facilitated Academies and is the external evaluator on the HLC Lumina grant to explore the use of the Degree Qualifications Profile. In addition, she is presently teaching in the graduate program in Educational Leadership at Indiana State University. She has also served as Managing Director for Professional Services at ABET, Senior Educational Manager for Optimal Global Solutions, and Vice President of Institutional Research, Planning and Assessment at Rose‐Hulman Institute of Technology. During this time, she has been providing workshops, webinars, seminars and institutes for the development of continuous quality improvement of educational programs and institutional effectiveness related to strategic planning for the past two decades. She has been an external evaluator for major science, math, engineering, and technology initiatives and has served as Chair of two national advisory committees and been a member of numerous review panels for the National Science Foundation. She has served as a reviewer for the Fulbright Senior Scholars program and has been a special editor for two issues of the International Journal of Engineering Education.
Gloria has organized 14 symposia on program assessment and accreditation that have been attended by faculty from 500 institutions around the world. She has authored 35 assessment‐related articles, given over 100 invited presentations at national and international conferences and facilitated workshops/seminars at over 80 campuses. She has also given consultations and workshops in 29 countries including a Fulbright Senior Scholar assignment in Lima, Peru. In 2008 she was named a Fellow of the American Society of Engineering Education for her contributions to the engineering education profession.