Fundamentals of Program Assessment – Columbus, OH
10/29/16
---
Event Details
This one-day workshop is for those who are new to program assessment. The interactive sessions focus on designing program educational objectives, making student outcomes measurable, creating rubrics, and analyzing assessment data. More >
Focusing primarily on ABET Criterion 2: Program Educational Objectives, Criterion 3: Student Outcomes, and Criterion 4: Continuous Improvement, you will leave this workshop prepared to:
Identify key elements of a functional assessment process.
Clarify the similarities and differences between course and program assessment.
Make student outcomes measurable with the development of performance indicators.
Understand the methods and measures to assess student outcomes.
Develop rubrics to assist in evaluating student performance in achieving student outcomes.
Understand the pros and cons of various data collection methods.
Review an example of reporting your results.
PDH: +
7.00
Professional Development Hours >
Address
Columbus, Ohio
Embassy Suites by Hilton Columbus Airport
2886 Airport Drive,
---
Speakers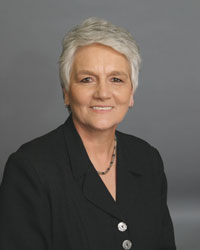 Gloria Rogers, Ph.D.
Gloria Rogers, Ph.D., is currently serving as a Senior Scholar for the Higher Learning Commission (HLC) of the North Central Association. In this role she is a mentor for institutions participating in the HLC‐facilitated Academies and is the external evaluator on the HLC Lumina grant to explore the use of the Degree Qualifications Profile. In addition, she is presently teaching in the graduate program in Educational Leadership at Indiana State University. She has also served as Managing Director for Professional Services at ABET, Senior Educational Manager for Optimal Global Solutions, and Vice President of Institutional Research, Planning and Assessment at Rose‐Hulman Institute of Technology. During this time, she has been providing workshops, webinars, seminars and institutes for the development of continuous quality improvement of educational programs and institutional effectiveness related to strategic planning for the past two decades. She has been an external evaluator for major science, math, engineering, and technology initiatives and has served as Chair of two national advisory committees and been a member of numerous review panels for the National Science Foundation. She has served as a reviewer for the Fulbright Senior Scholars program and has been a special editor for two issues of the International Journal of Engineering Education.
Gloria has organized 14 symposia on program assessment and accreditation that have been attended by faculty from 500 institutions around the world. She has authored 35 assessment‐related articles, given over 100 invited presentations at national and international conferences and facilitated workshops/seminars at over 80 campuses. She has also given consultations and workshops in 29 countries including a Fulbright Senior Scholar assignment in Lima, Peru. In 2008 she was named a Fellow of the American Society of Engineering Education for her contributions to the engineering education profession.
Kevin Huggins, Ph.D.
Kevin Huggins, Ph.D., is Professor of Computer Science and Analytics at Harrisburg University of Science and Technology. He is also a retired military officer who spent the early part of his career in military intelligence, with extensive experience in Latin America. The remainder of his career was dedicated to academia, primarily as a faculty member in the Department of Electrical Engineering and Computer Science at the U.S. Military Academy. While there, Kevin served as the Director of Research in Network Science as well as the Director of the Information Technology Program.
Additionally, Dr. Huggins was a visiting scientist at the École de Techniques Avancées in Paris, France, where he studied parallel algorithms for multiprocessor system-on-chip (MPSoC) architectures.
His current research interest lies at the intersection of data science and information security, exploring novel ways of securing computing systems by leveraging the enormous amounts of available data.
Fluent in Spanish and French, Kevin is also interested in international engineering education. He is currently developing partnerships in Europe and Latin America to enhance and increase international engagement opportunities for students at Harrisburg University. Also, while at West Point, he led multiple initiatives to improve the cultural and linguistic abilities of engineering students.
Huggins serves as a consultant for computing curriculum development and for fostering international collaborative research efforts in technology and engineering. Over the past decade Kevin has also served as a program evaluator, team chair and commissioner for the Computing Accreditation Commission (CAC).
Kevin earned his B.S. in computer science from the US Military Academy, a M.S. in computer science from the Naval Postgraduate School, and his Ph.D. in computer science from the École des Mines de Paris. He is an ABET Senior IDEAL Scholar.