Speaker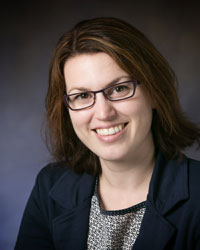 Jennifer "Jenny" Amos, Ph.D.
Jennifer "Jenny" Amos, Ph.D., joined the Bioengineering Department at the University of Illinois in 2009 and is currently a Teaching Associate Professor in Bioengineering and an Adjunct Associate Professor in Educational Psychology. She received her B.S. in Chemical Engineering at Texas Tech and Ph.D. in Chemical Engineering from University of South Carolina.
Amos has dedicated her career to engineering education research and researches k-12 outreach programs, integrating social science into engineering, as well as assessment methods.  She completed a Fulbright Program at Ecole Centrale de Lille in France to benchmark and help create a new hybrid masters program combining medicine and engineering and also has led multiple curricular initiative in Bioengineering and the College of Engineering on several NSF funded projects. In 2017, she joined the new Carle Illinois College of Medicine as Director of Assessment and Evaluation to help form the curriculum and assessment plans for this engineering-based college of medicine.
Amos has been a PEV for the Biomedical Engineering Society since 2012, is an IDEAL Scholar 2011 and has been leading program assessment workshops since 2012.