Speaker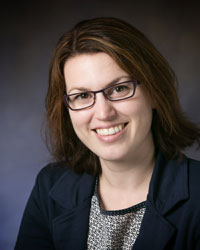 Jennifer "Jenny" Amos, Ph.D.
Jennifer "Jenny" Amos, Ph.D., is a faculty member, chief academic advisor, and director of undergraduate programs for the Department of Bioengineering at the University of Illinois at Urbana-Champaign. Amos received her bachelor's in chemical engineering from Texas Tech University and her Ph.D. from the University of South Carolina College in chemical engineering with a focus in developmental biology and cell imaging through the University of South Caroline School of Medicine. She was also an NSF GK-12 Fellow during her graduate work and earned a certificate in the Preparing Future Faculty Program while pursuing her Ph.D.
Amos is now dedicated to undergraduate education through developing innovative courses and hands-on teaching labs, such as tissue engineering, cellular energetics, and the bioreactor Lab. She also develops modules and coordinates K-12 summer camps involving bioengineering, and conducts engineering education research involving capstone experiences for undergraduates. She is a program evaluator for BMES and an ABET Senior IDEAL Scholar.