Speaker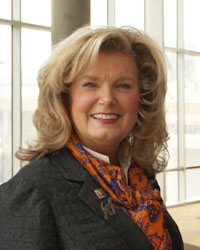 K.J. (Jamie) Rogers, Ph.D., P.E., IIE Fellow
2014-2015 President
Jamie Rogers was the ABET 2014-2015 President. Since 1991, she has served the organization in different capacities, including program evaluator, team chair, EAC Commissioner, PEV Training Facilitator, and member of numerous committees.
Currently, she is a University of Texas System Regents' Outstanding Teacher, Professor and Associate Chair of the Department of Industrial, Manufacturing, and Systems Engineering at the University of Texas at Arlington.
A Registered Professional Engineer in Texas, Rogers worked at Texas Instruments in various engineering and management positions, in defense electronics and semiconductor business areas, prior to joining academia in 1994.
She is a Fellow of the Institute of Industrial Engineers (IIE) and was inducted into the University of Missouri Industrial and Manufacturing Systems Engineering Hall of Fame in 2013. Rogers received her B.S. in Industrial Engineering (Honors Scholar) from University of Missouri at Columbia, her M.S. and Ph.D. in Industrial Engineering from UT Arlington. Originally from Richmond, Virginia, Rogers enjoys traveling with her family including champion Airedale Terriers.