Speaker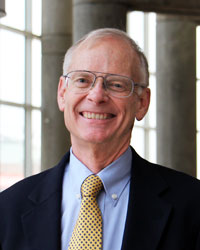 Lawrence G. Jones, PhD
2015-2016 President
Lawrence G. Jones was 2015-2016 ABET President. Prior to becoming a member of our Board of Directors, he served many years as a program evaluator and as a CAC (Computing Accreditation Commission) Commissioner. He is a past Chair of the CAC and the ABET Accreditation Council.
Recently retired as a Distinguished Principal Researcher from the Software Engineering Institute (SEI) of Carnegie Mellon University, Jones led a number of research and customer projects, including applied research in software architecture and software product lines. Prior to joining the SEI, he served a career in the U.S. Air Force and was the Chair of the Computer Science Department at the U.S. Air Force Academy.
Jones is an ABET Fellow, a CSAB Fellow, a Senior Member of the ACM, a Senior Member of the IEEE, and a member of the Arkansas Academy of Computing. He holds a PhD in computer science from Vanderbilt University, MS and BS degrees in industrial engineering from the University of Arkansas.
An enthusiastic mountaineer and hiker, in addition to extensive climbing in the European Alps, he has climbed the highest 100 summits in his home state of Colorado.