Module 1: Welcome and Overview
A. Program Evaluator Training Overview
Candidates who are selected for the ABET Program Evaluator Candidate (PEVC) Training Program undergo three training processes:
Online Training (must be completed prior to the Face-to-Face Training): The online modules include three proficiency assessments and a simulated program evaluation. The online modules – which can be taken at your own pace – cover fundamental information about ABET, the accreditation process, roles and responsibilities, and the general criteria (criteria 1-8).
Face-to-Face Training: Face-to-Face Training is a one-and-a-half day experiential workshop that simulates an accreditation visit.
Program Criteria Training: Training on program-specific criteria is provided by the member society with program area responsibility.
B. Online Training (Pre-Work For Face-to-Face Training)
The online Program Evaluator Candidate (PEVC) Training consists of seven (7) online modules designed to provide information about ABET, the accreditation process, the role of the Program Evaluator (PEV), and PEV tasks prior to and during an accreditation visit. This training also prepares you for the Face-to-Face Training. Included in the seven (7) online training are three (3) Proficiency Assessments at the end of Modules 3, 4, and 6. The results will automatically be recorded and the correct responses sent to you via email.
The purpose of the online training is two-fold:
To review the fundamental aspects of the overall ABET Accreditation Process: These materials are contextual, somewhat static in nature, and best learned independently. During accreditation visits, you as a PEV are considered the face of ABET and are required to know the contextual pieces of information.
To simulate what happens in preparation for an accreditation visit: In this portion, you will complete several items that will be posted to the ABET Training Website and reviewed by your Training Mentor, your ABET Member Society contact, and a Face-to-Face Training Support Facilitator, much like that done by an accreditation visit Team Chair.
C. Outputs From Online Training
The following materials need to be completed and submitted according to the dates listed below:
Three (3) completed Proficiency Assessments
Program Evaluator Worksheet (Applicable to PEVCs affiliated with CAC and EAC)
Program Evaluator Report
You will learn more about completing and posting the Program Evaluator Worksheet and Program Evaluator Report in Module 5: Applying the Criteria.
If the Proficiency Assessments, Program Evaluator Worksheet, and Program Evaluator Report are not completed and posted by the due date, you will not be able to attend the Face-to-Face Training. You'll have considerable choice in attending the following training sessions. The important dates for each session are listed below: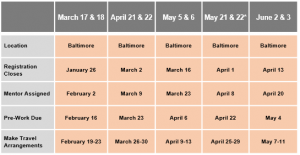 *Special session with limited enrollment.
ABET's Training Manager will contact you with instructions regarding travel and hotel arrangements and ABET's travel policy. Per ABET policy, we will only reimburse for reservations made with the ABET travel agent.
D. The Face-to-Face Training
The Face-to-Face Training consists of one-and-a-half days (usually Saturday and Sunday) of interactive training as a simulated visit team, including an assignment on the first evening to be turned in the following morning. The Face-to-Face Training is designed for two purposes:
To immerse you in the real-life situations and activities that occur during a site visit to a university or college. The workshop uses and builds upon the online training pre-work materials that you have completed.
To provide opportunities to demonstrate the PEV Competency Model.
Travel Reimbursement for Face-to-Face Training
ABET reimburses all appropriate travel expenses, providing the PEVC uses ABET's travel agent.
E. Your Training Mentor Connection
Your ABET Member Society has assigned a Training Mentor to you. The Training Mentor is available to answer questions and guide you through your learning process. Your Training Mentor will work with you throughout the training process to:
Make an initial contact
Answer your questions in completing the online training pre-work
Support your learning through the Face-to-Face Training
Answer your questions after the Face-to-Face Training
For more information about Training Mentors, click here.
Please Note: You should hear from your Training Mentor within a few days of receiving a notice that you have been assigned a mentor. Please contact your ABET Member Society if you have not heard from him or her.
F. Getting Assigned To Your First Site Visit
Upon successful completion of PEVC Training, your ABET Member Society will assign you to the PEV pool. Your Member Society may assign you for a visit in the upcoming cycle, based upon the number of programs being visited. For more information, contact your Member Society.
G. Background
What Is ABET?
ABET is the recognized U.S.-based accreditor of college and university programs in applied and natural science, computing, engineering, and engineering technology.
What Is Accreditation?
In the United States, accreditation is a non-governmental, peer-review process that assures the quality of the postsecondary education students receive. Educational institutions or programs volunteer to undergo this review periodically to determine if certain criteria are being met. (NOTE: Outside the United States, accreditation is not necessarily voluntary or non-governmental. For more information, see the United Nations Educational, Scientific, and Cultural Organization (UNESCO) website for more information on the world's post-secondary education systems and their quality assurance mechanisms.)
It is important to understand that accreditation is not a ranking system. It is an assurance that a program meets established quality standards. In addition, the role of ABET accreditation is to provide periodic external assessment and evaluation in support of the program's continuous improvement process. ABET accreditation provides assurance that a college or university program meets quality standards of the profession for which that program prepares graduates.
H. About ABET
Assuring Confidence
Industry can embrace the future with assured confidence knowing that the institutions that invest in our accreditation services are using the most advanced methodologies and expertise to measure the quality and performance of their programs.
ABET serves the public globally through the promotion and advancement of education in applied and natural science, computing, engineering, and engineering technology. ABET:
Accredits educational programs.
Promotes quality and innovation in education.
Consults and assists in the development and advancement of education worldwide in a financially self-sustaining manner.
Communicates with our constituencies and the public regarding activities and accomplishments.
Anticipates and prepares for the changing environment and the future needs of constituencies.
Manages the operations and resources to be effective and fiscally responsible.
We champion excellence worldwide. Our approach, the standards we set, and the quality we guarantee inspire confidence in those who aim to build a better world—one that is safer, more efficient, comfortable, and sustainable.
I. ABET's Philosophy Of Outcomes-Based Accreditation
ABET's accreditation procedures and processes historically have been intended for programs that prepare graduates for entry into a profession appropriate to the program's discipline. The decision on the appropriate accreditation action for a program is made based on the extent to which the relevant criteria for the program are met. It is the institution's responsibility to demonstrate how the program meets the relevant criteria.
ABET's current accreditation processes are strongly oriented toward continuous quality improvement (CQI) and outcomes-based accreditation.
An educational program CQI process should reflect a clear understanding of:
Mission
Constituents
Objectives
Outcomes
Processes (internal practice to achieve the outcomes)
Facts (data collection)
Evaluation (interpretation of facts) and
Action (feedback to support decision making and improve processes)
J. Who Is Involved In The ABET Accreditation Process?
The accreditation process requires the participation of many individuals, institutions, and organizations:
ABET
ABET's member societies
Institutions and programs requesting accreditation
Team Chairs
Program Evaluators
Each of ABET's member societies is invited to have representation on one or more of the four ABET commissions, according to the curricular areas that the ABET Board of Directors assigns to those societies.
The four ABET accreditation commissions are the:
The commissions are responsible for administering the ABET Accreditation Process, conducting accreditation reviews, and determining accreditation actions (by vote of the entire membership), based on the Accreditation Policies and Procedures Manual (APPM) and on the accreditation criteria. The commissions are also responsible for the continuous review and enhancement of criteria, policies and procedures.
Upcoming PEVC Training assignments are Commission specific. Please contact ABET's Training Manager if you are unsure of the Commission to which you have been nominated.
For more information, see Accreditation Policies and Procedures Manual (APPM) and criteria.
The Accreditation Council (AC) is comprised of leadership (Chair, Past Chair and Chair Elect) from the four accreditation commissions. The Accreditation Council is responsible for improving the effectiveness, efficiency, and uniformity of the accreditation process.
Changes to the accreditation criteria and to the Accreditation Policies and Procedures proposed by the commissions and the Accreditation Council are approved by the ABET Board of Directors and Board of Delegates.
You will learn more about how the ABET Criteria are based on CQI in Module 5: Applying the Criteria and how it relates to assessing student learning in Module 4: Continuous Quality Improvement of Student Learning.
Outcomes-based accreditation focuses on:
Learning, not teaching
Students, not faculty
Outcomes, not inputs or capacity