#ABETconfident Video Contest
ABET Confident
Every year hundreds of thousands of graduates all over the world count on ABET accreditation to ensure that when they hit the job market their education has prepared them to succeed in their careers.
We want to know what that confidence means to our students. This video competition aims to capture the confidence that students have in their ABET-accredited education.
When a student enrolls in an ABET-accredited program, they know their education will prepare them to build bridges, design pacemakers or create the infrastructure that allows society to live in a seamless, digital world. They want to play a role in creating the technologies that make the world a better place. ABET accreditation gives students, their future employers and society the confidence that they have what it takes to build a safer, more sustainable world.
About the #ABETconfident Video Contest
ABET accredits university programs in the STEM fields. Becoming ABET-accredited doesn't happen overnight. Faculty put in a great deal of effort above and beyond their work in the classroom to become accredited. And for many programs, the students who benefit the most from accreditation have no idea what kind of process or preparation goes into meeting that global standard.
Through the #ABETconfident Video Contest, we're encouraging faculty to communicate the value of ABET accreditation to their students, while giving the students a platform to convey their confidence in the caliber of the education they are receiving, and where they are investing their hard work, time and money.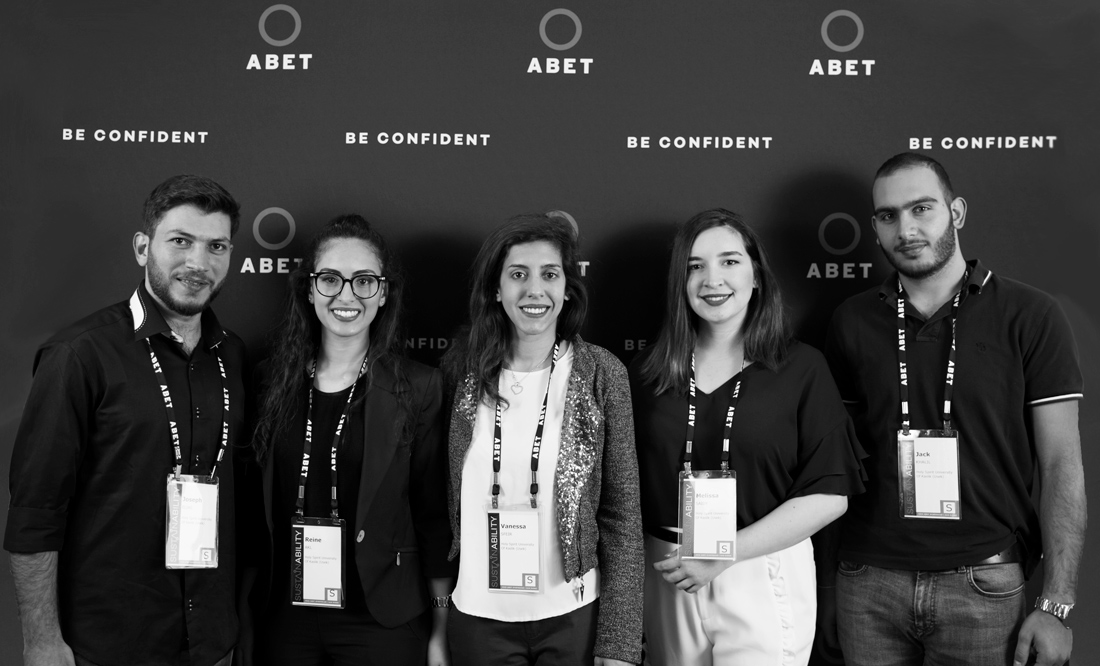 How You Can Join
Faculty
Discuss with your students how you are using ABET accreditation and program assessment to improve their education. You put a lot of hard work into keeping your lessons cutting-edge, so take the time to explain how you are assessing their educational experience and the role that ABET accreditation plays in communicating that value to employers and society.
Students
ABET accreditation is a signal to employers that your education has prepared you to work with the technologies that build safer planes, enable faster internet and discover more sustainable energy solutions. It gives the world confidence that you are ready to enter a global workforce. Tell us what that confidence means to you.
Submission Guidelines
Gather your students or classmates and create a 2-3 minute video that shares your definition of what it means to be #ABETconfident. Your video should capture:
Why being confident in the quality of your education is important to you
Your confidence in your courses to prepare you to succeed in your career
Your confidence that you will be well-situated to find a job after graduating from an ABET-accredited program
Show us what being #ABETconfident means to you.
Winners Will Get
Full registration to the 2019 ABET Symposium for up to two students and one faculty member to meet and network with leaders from companies like FireEye, Verizon and Boeing.
Round trip, economy flights to Dallas for up to two students — to be selected and purchased by ABET's travel staff.
Three nights of hotel accommodations for up to two students.
Competition Period
The #ABETconfident Video Contest opened for submissions on November 14, 2018 at 11:59 pm EST and closes submissions on February 15, 2019 at 11:59 pm EST. Entries submitted after the contest period will not be considered.
Judging
The contest will be judged by a panel of ABET staff and professionals from both academia and industry. Entries will be judged on adherence to theme, creativity, authenticity and execution. Judging will begin on February 15, 2019.
Eligibility
The contest is open to students, recent graduates and faculty members who belong to any U.S. or international programs currently holding ABET accreditation. Entrants must submit a signed release form upon entering the contest and must be 18 years or older to participate.
How to Submit
STEP 1: Post your video to an institution or program-specific public social media account. Tag us at @ABETaccredit and with the hashtag #ABETconfident.
STEP 2: Submit a completed Official Entry Form with a live link to your submitted video by 11:59 pm EST on February 15, 2019.
We will send an email to the address provided on the Official Entry Form confirming receipt of the video and acknowledging its eligibility after you post it to social media.

Entry Requirements
Videos must be between two (2) and three (3) minutes long
All entries must be the original work of students who are enrolled in or recent graduates of the college or university that is being represented in the video.
Overlays and animations are acceptable; though genuine student testimonies must be included.
Entries must not be inappropriate, indecent or obscene as determined by the judging panel.
One entry per ABET-accredited program. Institutions may have multiple entries from separate programs.
Videos must include a student saying, "I am ABET confident," or a group of students saying, "we are ABET confident," along with a graphic that reads #ABETconfident.
Publication
We consider all submitted videos, whether they become the winning entry or not, to be the property of ABET. They may be used, published or republished, in whole or in part, royalty-free, in any electronic media and in promotional material, including recruitment and online publications. By submitting your videos for consideration, you provide ABET with exclusive ownership of the video.
If your video wins, it will be hosted on the ABET website, posted on ABET's social media channels and shown at conferences around the world.
By submitting a video, you affirm that all students featured in the video are at least 18 years old and agree to be publicly shown in the video.