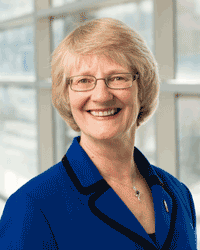 The American Association of Engineering Societies has named Sarah Rajala, our Engineering Accreditation Commission Chair, the recipient of the 2016 National Engineering Award.
"For her outstanding leadership at the institutional as well as at national and international levels impacting multiple engineering societies, her innovations in engineering education and assessment, and her tireless efforts to promote diversity in engineering."
The National Engineering Award is presented for inspirational leadership and tireless devotion to the improvement of engineering education and to the advancement of the engineering profession, as well as to the development of sound public policies as an engineer-statesman.
Rajala will be honored with the award at the 2016 AAES awards banquet in Washington D.C. on April 18, 2016.
About ABET
ABET is a forward-thinking, purpose-driven organization recognized by the Council for Higher Education Accreditation. All over the world, ABET accredits college and university technical programs committed to the quality of the education they provide their students.
Based in Baltimore, we are a global company, with more than 3,500 programs in 29 countries in the areas of applied science, computing, engineering and engineering technology at the associate, bachelor and master degree levels.