The need for diversity in STEM is hardly a new issue. According to the National Center for Education Statistics, women comprise only about 20 percent of computer science majors in the United States. But those numbers look different if you zoom in on California Polytechnic State University, San Luis Obispo (Cal Poly). Within the last decade, the number of women studying computer science-software engineering courses at the university has jumped from about 9 percent in 2007 to nearly 30 percent in 2017.
This growth is, in large part, due to Department Chair Dr. Ignatios Vakalis' tireless work to enhance diversity within the computer science department and his commitment to fostering an environment that supports female coders. Over the last decade, Vakalis has involved more women in creating curriculum enhancements, improved the teaching of introductory courses, and developed a strong student support network and mentorship programs.
As the winner of 2018 ABET Claire L. Felbinger Award for Diversity and Inclusion, Vakalis is a leader that has paved the way for what the future of STEM should and can look like.
Each year, ABET has the privilege of recognizing organizations and individuals like Vakalis who are inspiring excellence in technical education. The four major awards—The Linton E. Grinter Distinguished Service Award, Fellow of ABET Awards, ABET Innovation Award, and Claire L. Felbinger Award for Diversity— recognize the achievements of some of ABET's most dedicated Experts, as well as individuals that are taking huge strides in bringing diversity and innovation to technical education.
This year's ABET Innovation Award winner, the Formula Hybrid Competition, is a four-day event hosted by the Thayer School of Engineering at Dartmouth College. It empowers students to break new ground in building smart, fuel-efficient and eco-friendly vehicles.
Once each year, student teams gather in Loudon, New Hampshire, to test their hybrid and electric vehicles on the New Hampshire Motor Speedway. More than 3,500 students from over 80 colleges and universities worldwide have competed since 2007. It is supported by many major automotive companies, like Ford, GM, Toyota and Fiat-Chrysler. Many of the competitors in the race go on to work at these very companies, helping develop ever-more eco-friendly cars.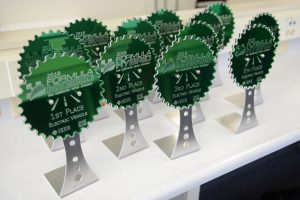 Formula Hybrid's slogan is "The Future on Track" because it challenges tomorrow's leaders to think critically and across disciplines to help build a greener future. The world needs innovators who disrupt current technology and conventional thinking. The race requires them to do just that.
This year, we are also honoring three extraordinary ABET Fellows who are leading the next generation of students and STEM professionals into the future. Walt Buchanan, Ph.D., Mohammad (Mo) Hosni, Ph.D., and Stan Thomas, Ph.D., were each nominated by their peers for their remarkable contributions to ABET and accreditation. All three have been actively involved in their ABET Member Societies and have tirelessly promoted quality in STEM education worldwide. They are truly role models for our field, and join the ranks of many other distinguished ABET Fellows.
Our highest honor, the Linton E. Grinter Distinguished Service Award, recognizes individuals whose rare commitment and enduring impact has made ABET an exceptional organization. There is no one more deserving this year than my colleague and friend, Lawrence G. Jones, Ph.D.
Jones, who is a member of our computing society, CSAB, has held nearly every possible position in the organization— from Program Evaluator and Team Chair to ABET President, Chair of the CAC and member of the Governance Structure Task Force. He has done this while also serving as Distinguished Principal Researcher at the Software Engineering Institute (SEI) of Carnegie Mellon University and prior to that, as Chair of the Computer Science Department at the United States Air Force Academy. Now retired, he still serves ABET as a member of the Global Council, continuing his record of providing outstanding leadership and dedication to improving the quality of computing education around the world.
As I reflect on the incredible accomplishments of this year's winners, I am amazed by their determination, creativity, and commitment to their colleagues, research and STEM education. They are truly taking our field into the future.
From diversifying programs to building fuel-efficient vehicles, this year's award winners represent something special about ABET— our Member Societies. They are a reminder that we are building a better world, together, and by doing so, we are inspiring even more students to be the positive changemakers of society.
While we will formally celebrate these remarkable achievements on November 2 at the ABET Awards, our gratitude for their efforts in driving innovation, diversity and leadership in our field will be long-celebrated.
Congratulations to our 2018 ABET Award Winners!