With the turn of the New Year we reflect on the growth of ABET's volunteers, students, employees, member societies and organizations in 2016.
1. ABET Awards Gala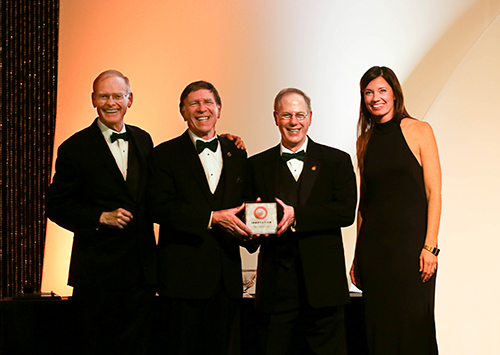 At our annual ABET Awards Gala in October, we unveiled the brand-new Innovation Award, which honors individuals or organizations who are breaking new ground by developing and implementing innovation into their ABET-accredited programs. The winner of the inaugural award was the Robotics Engineering Program at Worcester Polytechnic Institute (WPI) for developing and implementing the first ABET-accredited undergraduate Robotics Engineering program in the U.S. Their program has produced a large number of successful graduates, and it serves as a model for other Robotics Engineering programs throughout the U.S.
With the addition of the Innovation Award and the submissions of many qualified individuals and organizations, we had nine recipients at the Gala, the most we've ever celebrated. Bret Clausen, Allen Parrish, Pete Carrato and Sarah Rajala were given the ABET Fellow Award; the University of Wisconsin-Platteville Women in Engineering, Math and Science Program, Renetta Garrison Tull and The Anita Borg Institute all received the Claire L. Felbinger Award for Diversity; and M. Dayne Aldridge took home our highest honor, the Linton E. Grinter Distinguished Service Award.
2. 2016 Symposium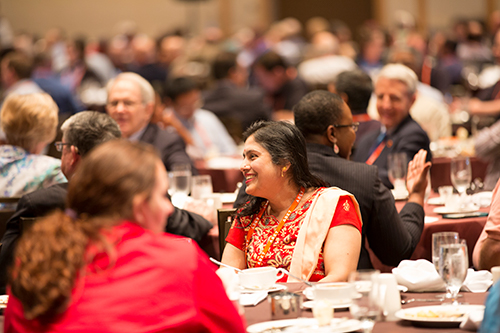 Attendees held invigorating conversations within the newly-launched Discussion Den format. We heard from whistle blowers Marc Edwards (The Flint Water Crisis) and Arvind Thiruvengadam (Volkswagen Emission Scandal) during the Great Minds, Greater Impact plenary discussion. Educators and professionals learned from our self-study reports, sessions and workshops. At our most well-attended Symposium to date, over 750 leaders and educators in technical education met to discuss accreditation, assessment and best practices in STEM education in Hollywood, Florida. With the success of our 2016 Symposium, we're excited for Citizen Tech: Technical Programs Reshaping Society.
3. Growing International Presence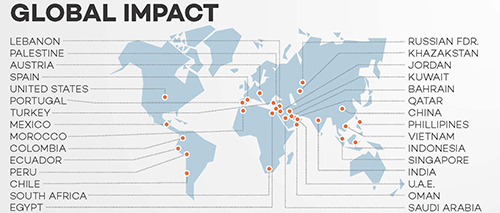 We established our global presence in 1979, when the ECPD signed its first Mutual Recognition Agreement with the Canadian Engineering Accreditation Board. However, our efforts to accredit programs outside the U.S. began less than a decade ago. Since then, we have expanded our presence to 30 countries, where we accredit 574 programs at 121 institutions. Austria is the latest addition to our list, and it joins Portugal and Spain as the third European nation where we have programs. Our other global initiatives include hosting and attending educational workshops and conferences around the globe and training program evaluators who live and work overseas.
4. Increased Interest in Natural Science Accreditation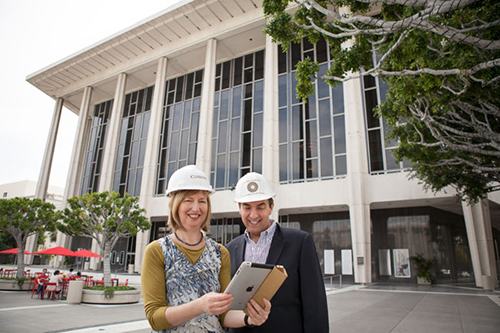 With stakeholders beginning to question the value of a college degree, natural science programs have been requesting ABET accreditation as a way to prove the effectiveness of their programs. This year we accredited our first Chemistry program under the Applied Science Accreditation Commission, and many other natural science programs are preparing to receive accreditation. Read our issue brief, ABET Accreditation: Into Natural Science, to learn more about these efforts.
5. ABET-Accredited Programs and Expert Pool Expanding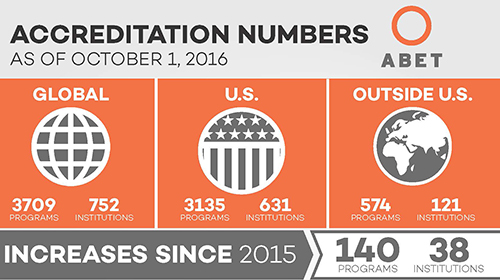 As an organization, ABET has had one of its most active years yet. As of 2016, we've expanded our presence to 30 countries and now have 3,709 programs at 752 institutions. We wouldn't be able to do this without the hard work and commitment of our Experts, who dedicate their time to ensure students of all walks of life are prepared to make our world safer, more efficient, more comfortable and sustainable. Speaking of which, we trained a record number of PEVs this year—160 came to our headquarters to participate in one of our four face-to-face training sessions last spring.
6. Positive Outreach to Opinion Leaders
Throughout the past year, we have been encouraging thought leaders to consider the significance of an ABET-accredited degree. ABET staff and volunteers are educating policymakers, opinion leaders and the business sector on the difference between regional and specialized accreditation and the value specialized accreditation brings to students, families, employers and society. These efforts have been successful: a DC-based think tank, the Center for American Progress, released a report that commended our accreditation:
"Unlike most institutional accreditors, ABET uses outcome measures to ensure that students, employers, funding sources, and society can be confident that programs it accredits meet the quality standards to produce students who are prepared to enter a global workforce."
In addition to this report, members of ABET's Industry Advisory Council (IAC), Charles Menke and Edward Calusinski, from Caterpillar and IBM respectively, wrote an op-ed in Crain's Chicago Business that urges industry and government leaders to consider the high value of our accreditation. With the transition of a new government this year, we plan to keep these efforts rolling in 2017.