ABET, the global accreditor of college and university programs in applied and natural science, computing, engineering and engineering technology, is proud to announce that 163 new programs have gained the distinction of becoming ABET-accredited.
As of October 1, 2020, ABET accredits a total of 4,307 programs at 846 colleges and universities in 41 countries/areas around the world. These include the first programs in facility management to receive ABET accreditation.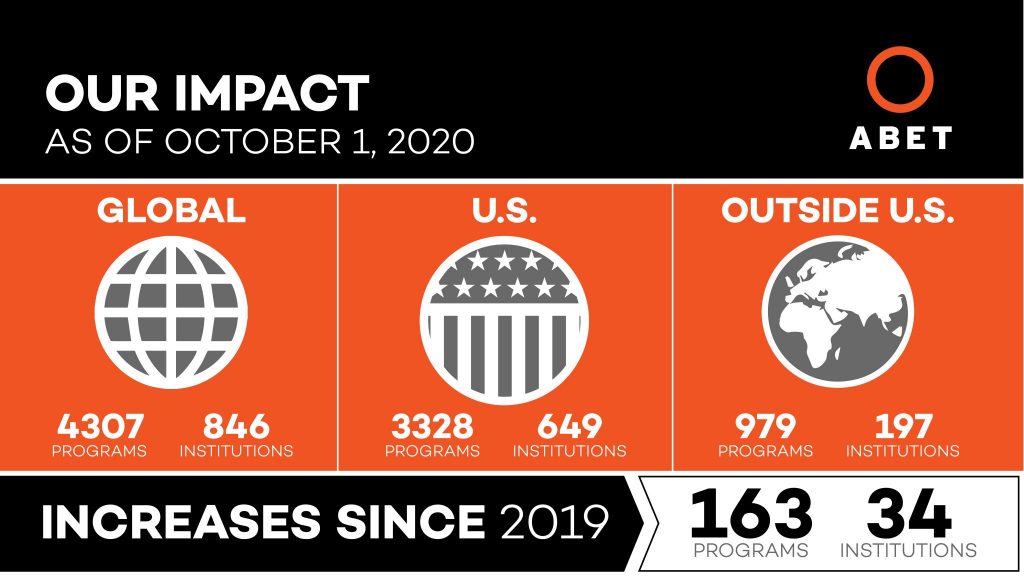 ABET accreditation means that students, employers and society can be confident that a program is producing graduates ready to enter the global workforce. Sought worldwide, our voluntary peer-review process determines that a program is meeting the needs of industry while continuously improving the education it offers. Developed by technical professionals from ABET member societies, our criteria focus on what students experience and learn.
Today, over 970 ABET-accredited programs are outside of the U.S., accounting for more than 20 percent of all ABET-accredited programs. This year, we experienced significant growth in countries/areas — from 32 in 2019 to 41 in 2020. This increase in programs seeking accreditation is a testament to the confidence ABET's globally recognized standards bring to graduates and employers in all of the STEM fields.