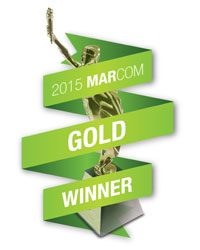 The recently launched ABET website and logo are the winners of two prestigious MarCom Gold Awards. An international competition that recognizes outstanding creative achievement by marketing and communications professionals worldwide, MarCom Awards are administered and judged by the Association of Marketing and Communication Professionals.
"We are extremely proud of the work we have done over the past year and are confident that our brand now reflects the forward-thinking dynamic organization that we are. These awards give us the important recognition of our peers in the marketing and communications industry. Our branding campaign, which includes the award-winning logo and website, is the result of a very successful partnership developed with Ashton Design and Neil Gaught & Associates," said Danielle Duran Baron, Senior Director of Global Communications and Marketing.
There were over 6,500 entries from throughout the United States, Canada and 15 other countries in the 2015 competition. MarCom entries come from corporate marketing and communication departments, advertising agencies, PR firms, design shops, production companies and freelancers. The competition has grown to one the largest of its kind in the world. A look at the winners shows a range in size from individual communicators to media conglomerates and Fortune 500 companies.
Winners were selected from over 200 categories in seven forms of media and communication efforts- marketing, publications, marketing/promotion, public service/pro bono, creativity and electronic/interactive. For more information, visit www.marcomawards.com