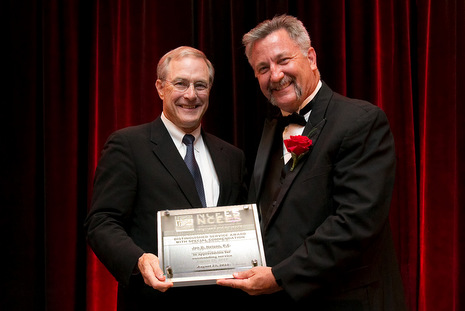 On August 21, Jon D. Nelson, a member of the ABET Board of Directors, was awarded the NCEES Distinguished Service Award with Special Commendation for his dedicated service to the organization as well as his contributions to the engineering and surveying professions. He received the award, NCEES' most prestigious, at its 94th annual meeting in Williamsburg, Virginia.
After being awarded the NCEES Distinguished Service Award in 2007, Nelson's support for the organization never faltered. He went on to serve on the NCEES B+30 and Engineering Education task forces and the Advisory Committee on Council Activities. He is also a volunteer with the NCEES PE Civil exam development committee.
Nelson is an emeritus member of the Oklahoma Board of Examiners for Engineers and continues to make efforts in advancing licensure for engineers and surveyors. He is currently a senior vice president with Tetra Tech, Inc., a global consulting, engineering, and construction firm headquartered in Pasadena, California.