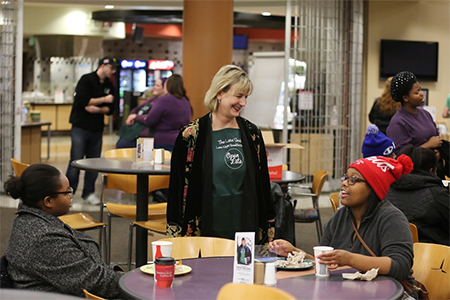 A leader for today's students, Cheryl Schrader is a strong advocate for the young men and women who wish to pursue STEM careers. After becoming Missouri S&T's Chancellor in 2012, Schrader has taken it upon herself to ensure tomorrow's engineers, scientists, business leaders, educators and doctors are armed with the creativity and ingenuity that are fueled by an education rooted in confidence.
The Confidence of Women in Engineering
The importance of higher education has revealed itself to Schrader through a long road. As Missouri S&T's Chancellor, she is right in stride with today's students. Her involvement, especially through ABET, helps connect the educational experience to the profession in a very real way and keeps students at the center of all that she and her team do.
To Schrader, the time to invest in a career begins far before the collegiate years. That's why she is heavily involved in Expanding Your Horizons, summer camps such as It's a Girl Thing and the St. Louis Science Center. Several of these programs cater to girls in primary and secondary education and devote their efforts to exposing young women not only to the national dialogue of women in male-dominated disciplines, but also to possible interests in STEM.
"I do not want them to encounter the obstacles I had. It's my hope that I can play a small role in assuring them that they are capable, competent and confident and also in showing them just how exciting and rewarding this field can be," she says enthusiastically as she explains why she sets aside time from her Missouri S&T schedule for these organizations.
Schrader describes representing underrepresented groups as at the heart of her life's work. She capitalizes on her position as chancellor to further a new generation of women engineers. Over 20 years ago, Schrader helped found a part of the IEEE Control Systems Society, Women in Control, which not only helps to increase female participation in the field, but also creates more seats at the leadership table.
Schrader also helped create "Rising to the Challenge: Missouri S&T's Strategy for Success." "Far from keeping the status quo, this plan encourages the university community to re-examine how we do business with our customers in mind and focuses on providing those customers a top return on investment," she points out.
Lately, the project has proven to be a success. She and her team are over 40 percent of the way to their goal of adding 100 new faculty members. They also introduced an experiential learning requirement, increased the university's revenues by more than 30 percent and are continuing to foster new relationships with industry and other domestic and international higher education institutions.

A Living Reminder
What fuels Schrader's cause? Seeing the success of her students. But one student in particular comes to mind when she thinks about the people who inspired her, perhaps as much as she inspired them.
Schrader told the story of this particular student during a presentation she gave in the student's hometown in rural Missouri. The young girl dreamed of becoming a doctor. However, she confided in Schrader that there wasn't much support for her dreams. "All too often she did not receive the encouragement she was looking for. Many people from her town don't leave," Schrader says, referring to the girl's aspirations of leaving home to pursue her education.
However, the young woman, curious and confident, ultimately commuted to Missouri S&T to study biology while simultaneously volunteering at the local hospital. "Today, this young woman is in her third year of medical school and I am delighted to say she is thriving," Schrader says, smiling with a great sense of pride.
To Schrader, this story speaks volumes for what can be achieved in STEM fields as long as there is a strong support system along with a focus on confidence and character. It also adds a level of importance to the value of higher education.
"I think of this woman a lot when people question the value of a college degree or the importance of supporting public higher education. How many would fall through the cracks if it weren't for professors like her own who encouraged her at every step and assured her that there was nothing comical about her dreams?" Schrader asks. "This young woman is thinking about going back to rural Missouri to serve in the type of community where she grew up. These are the success stories that inspire me to do everything I can to continue the good and vitally important work we're doing at Missouri S&T."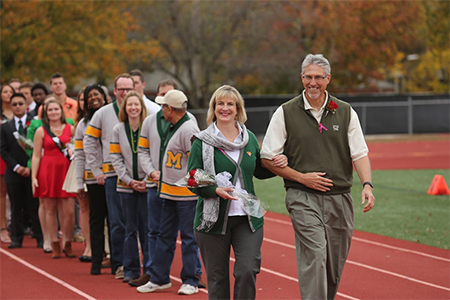 A Surprise Career Path
Schrader is emphatic about the need for a support system. Her belief's foundation dates back to when she grew up with a strong familial support system in the suburbs of Chicago. The young Schrader was encouraged by her father to stick with her love of math and science: "He suggested engineering — something I had not considered," she recalls.
Heeding his advice, Schrader ultimately attended the University of Notre Dame, concentrating on electrical engineering's systems and control for her master's and doctorate. In the beginning, she sought out a concentration on computers and communications in the Department of Electrical and Computer Engineering at Indiana's Valparaiso University. It was at Valparaiso that one of her professors was the first to offer an opinion on a possible career path: higher education.
Schrader found it curious that she had never considered that as a career path. Reflecting back, she realized her lapse in thought was because she had never met a woman who taught engineering. "It didn't occur to me that I could become a professor," she says.
And that small nudge from her professor shaped how Schrader approaches her career. "Those small acts of faith in others can have a dramatic impact on the trajectory of one's academic and professional path," she says with confidence. As a woman in engineering, Schrader now ensures that those not proportionally represented are given the same attention as all students. Diversity is now an asset. After Valparaiso, Schrader recognizes mentoring as a key component of every students' respective success.
She attributes the rise of inclusivity as a newly-recognized fundamental aspect of success and innovation in the engineering discipline. Her belief is founded on the shift she's seen among her peers over the past three decades: "They are not just accepting diversity among teams, but they are embracing it. And that's a very good thing."
Cheryl Schrader served as a Commissioner on the Engineering Accreditation Commission.
---
About ABET
ABET is a forward-thinking, purpose-driven organization recognized by the Council for Higher Education Accreditation. All over the world, ABET accredits college and university technical programs committed to the quality of the education they provide their students.
Based in Baltimore, we are a global company, with over 3,700 programs in 30 countries in the areas of applied science, computing, engineering and engineering technology at the associate, bachelor and master degree levels.