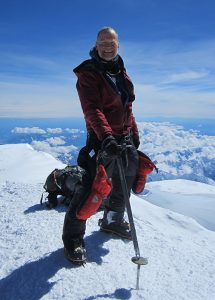 Most people want to end their careers on a high note. But very few of them can say they climbed the highest mountain in North America to wrap up a 35-year career in the military.
Meet David "Hoot" Gibson: Air Force Colonel, computer science professor, avid mountain climber and ABET Expert.
Gibson is a busy man and there are no signs that retirement will slow him down. We meet at a Baltimore hotel café, as he tries to squeeze our interview between his many engagements during the ABET Commission Meetings, in mid-July.
Denali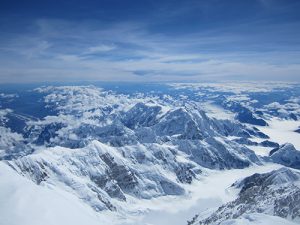 This happens just two weeks after he had checked off one item in many people's bucket list: climbing Denali, in Alaska, the highest mountain peak in North America, with a summit elevation of 20,310 feet above sea level. For reference, that's almost 14 Empire State Buildings.
Denali is the third highest of the Seven Summits — the highest mountains on each of the seven continents — following Mount Everest in Nepal and Aconcagua in Argentina. In total, just under 1,200 people registered to climb Denali this year. Gibson embarked on this adventure of a lifetime shortly after he wrapped his last semester as the chair of the computer science department at the Air Force Academy, in Colorado Springs, Colo. Unlike his two travel companions, Gibson had never attempted to climb Denali, but that certainly was not a deterrent. Neither was the meager 30 percent success rate early in this 2017 climbing season.
As any mountaineer will tell you, there is a lot of preparation that goes into planning such a complex operation. For the two-week expedition, the team needed 150 pounds of food, delivered by a service before they started the climb. "Each one of us had a large 55-pound-backpack and a sled carrying another 65 pounds of food and equipment," the veteran climber explains, adding that the group decided to climb with no guides.
Impressively, they climbed the mountain in 12 days and only spent two days coming down; in 2016, the average trip length was 16.5 days start to finish. That Gibson would able to complete the climb in a relatively short amount of time was no surprise to Larry Jones, 2015-16 ABET President, and Gibson's personal friend, who was tracking his former colleague's progress the whole time. "Hoot is a very strong climber and a fitness fanatic," Jones says with admiration, and perhaps a bit of pride. It's easy to understand why. According to Gibson, Jones was the one that got him into mountain climbing and ABET, of all things.
Air Force Roots
Jones and Gibson met in the early 90s when they both taught at the Air Force Academy and have remained friends ever since. They share many things in common, including a passion for computer science and mountaineering, in addition to a long history with ABET.
"Larry was the department chair at the time, and he was already active with ABET, so he encouraged me to do the same. I knew I would learn a lot, but I also wanted to be of service. This would give me a chance to give something back to academia in addition to what I have done with the Air Force," Gibson explains.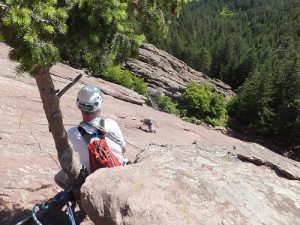 And when it comes to the Air Force, his list of accomplishments is nothing short of impressive. Since his graduation from Duke University Air Force ROTC program, in 1983, Gibson, who retired in the rank of brigadier general on August 1, has held numerous high profile posts. Throughout his career, he has been chief of software development of the Studies and Analysis Directorate of the Air Force Electronic Warfare Center at Kelly AFB and chief of the Computer Security Special Applications Branch at the National Security Agency at Fort Meade. In addition, he was deployed from October 2003 to March 2004, serving as Chief of Information Operations and U.S. Senior National Representative for HQ Kosovo Forces.
Extremely humble about his many accomplishments, the decorated veteran is quick to return the focus of our conversation to his friend. "Larry also introduced me to mountain climbing and we've done a few climbs together over the years," Gibson explains. "So I guess we can blame him for both: bringing me to ABET and getting me into rock-climbing," the seasoned mountaineer says jokingly.
ABET & CSAB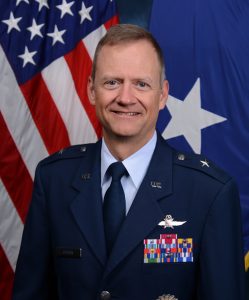 Jones and Gibson came to ABET through CSAB, the lead ABET member society for accreditation of programs in computer science, information system, information technology and software engineering. Members of CSAB come from the Association for Computing Machinery (ACM) and the IEEE Computer Society (IEEE-CS).
The brand new retiree and CSAB member, who was born and raised near Dayton, Ohio, is in high demand. It is easy to see why. Computing is a hot area these days, and as ABET plans to develop program specific criteria for cybersecurity, he can bring a wealth of knowledge and expertise to the table. While Gibson was the head of the computer science department, the Air Force Academy created a Bachelor of Science program in Computer and Network Security, which will be one of the first programs to host a pilot Cybersecurity accreditation visit this year.  Add that to the list of service to ABET that started in 1999 and has resulted in 20 accreditation visits, with two scheduled for this fall.
A veteran ABET program evaluator, team chair and second-term commissioner, he never left ABET, having served as a team chair after his first five-year term as a commissioner expired. During the July Meetings, he was nominated to join the Executive Committee of the Computing Accreditation Commission.
No one seems to be more excited than Jones, who again has engaged his longtime friend in another task: participating in a newly-formed taskforce to investigate the possibility of accrediting two-year cybersecurity programs. "Hoot will be a huge asset to us, in addition to his role at the Academy, he participated actively in the Cyber Education Project a few years back and was instrumental in developing outcomes-based criteria for cybersecurity programs," Jones happily explains, adding that the sector will experience tremendous growth in the next few years. And that should bring about a lot of changes and higher visibility to this dynamic field.
It certainly rings true to Gibson. "In the Air Force, we are all used to seeing the pilots fighting the war. And as a computer guy, you were there to support. Now, our role is moving from support to operations. We are still engaging the adversary but in a new battlefield," he says with pride, reflecting on his tenure at the Academy, where he led the institution's cyber education, training and research programs, and he worked to develop officers to "fly, fight, and win" in the cyber domain.
Gibson notes that not too long ago the vast majority of cadets coming into the academy wanted to fly planes or be engineers, but recently some will elect to study cybersecurity right away, and the Air Force has seen the numbers of graduates in computer science and cybersecurity increase significantly. "Computer geeks are more appreciated now as we are having a bigger impact on the defense of our nation," he says with a chuckle and the confidence of someone who's been around the block a few times. After all, Gibson says, recalling his time in Maryland in the 80s, "Back then, the NSA was still known as 'No Such Agency'."
With cyberspace being the next frontier, it is reassuring to know that thanks to the work of Gibson and other cyber security professionals, who are shaping the workforce of today and tomorrow, we have men and women to protect us in such a critical way.
Images were added to this spotlight on December 14, 2017.
---
About ABET
ABET is a forward-thinking, purpose-driven organization recognized by the Council for Higher Education Accreditation. All over the world, ABET accredits college and university technical programs committed to the quality of the education they provide their students.
Based in Baltimore, we are a global company, with over 3,700 programs in 30 countries in the areas of applied and natural science, computing, engineering and engineering technology at the associate, bachelor and master degree levels.