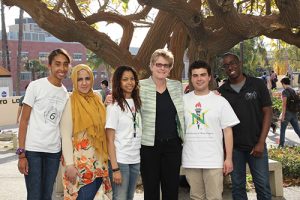 You never would've guessed that in her early 20s, ABET Expert and Dean of the Engineering, Computer Science and Technology (ECST) school at California State University, Los Angeles Emily Allen dropped out of college.
Sitting next to me in a café with the buzz of the 2017 ABET Symposium surrounding us, Allen, who is on the ABET Academic Advisory Council (AAC) and chairs the ABET Ad Hoc Committee for Diversity and Inclusion, takes a break from her time as an invited speaker to discuss her life's work. Throughout our conversation, she shares how her passion for teaching and inclusion is leaving significant imprints in science, technology, engineering and math (STEM) education today.
From Welding to Teaching
You could say Allen joined the STEM sphere early on but took an unconventional path. A year after graduating high school, she enrolled in Hampshire College in Massachusetts to study geology. However, she grappled with the experimental college's lack of grades or requirements and had doubts about her abilities to become a college professor, which was the most-probable career path of a geologist. "I had professors up on a pedestal. I didn't imagine I could be one," she explains.
She decided to leave the program and later enrolled at a community college in Tucson where she learned how to be a welder. Unexpectedly, it was this experience that gave her the assurance to enter the educational world.
At the welding shop one day, she was told she needed to train a new employee, a young woman from a local Indian reservation. They went out to measure some steel that needed cutting. To her surprise, the woman had never used a tape measure and seemed to have no understanding of measurement.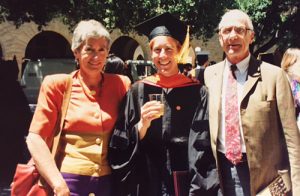 "I had to teach her what is length, what is measurement, what is a foot, what is an inch…and so I did," Allen pauses. "I think that was the start of me being an educator."
Since her welding experience taught her how to build, she began to take interest in the field of engineering. She eventually enrolled at Columbia University, where she received her bachelor's degree in metallurgy and materials science. But after working in electronic materials at the research and development division of Raychem Corporation in California, it became clear there was more to learn. She began working part-time to pursue her master's degree at Stanford University but ended up quitting her job and completing her Ph.D. in materials science in engineering instead, developing diffusion models for compound semiconductor processing.
As a teaching assistant, she designed an entire course in electronic materials, which, after all these years, finally gave her the confidence to pursue a teaching job. "After teaching, I thought, well, I can do this, maybe academia is for me after all." she says with a telling smile.
Post-Grad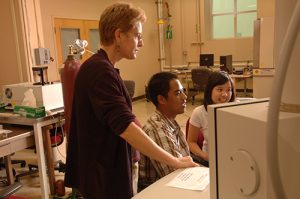 During Allen's welding days, she says one of her biggest takeaways was learning how to work with all types of people.
"You had to learn to work with everyone. You had to talk to everyone, you had to get along with everyone, and you had to see what skills different people had, and just value them for that. So that, I've taken that with me all my life," she explains.
When Allen finally started applying for teaching jobs, it only made sense she work at an open-access institution such as her first university employer, San Jose State University, which at the time "we called the best-kept secret of Silicon Valley. I'd never heard of it…It was a different kind of university, serving all kinds of students, both traditional and older, widely diverse, and it was, you know, perfect for me. It was a great place for me for 22 years," she ponders.
After transitioning from faculty to department chair and finally serving as associate dean for five years, she decided she needed a bigger way to contribute. In 2013, she applied to be the dean of engineering at California State University, Los Angeles, which is an even more diverse school than her previous employer and over 65% Hispanic. The majority of students are first-generation in some regard; whether that be the first to graduate middle school, high school or college. Some are even first-generation Americans.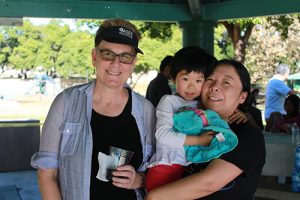 As dean, Allen works to carry out the university's mission, which is to serve the students. She says this is different from a research institution's mission to create the best research; instead, the school's research is in service to the educational mission. But at a school where the Latino culture dominates the student population, this mission often gets translated into indirectly serving the community.
This can be explained by the motto Allen created, which is in conjunction with the mission: "Commit to excellence; engage in community." Allen chose the second part to emphasize that the Latino culture is so community-oriented that it can sometimes be to a fault. "Sometimes I have to say, 'Stop volunteering, and go study,'" she says, beaming with pride.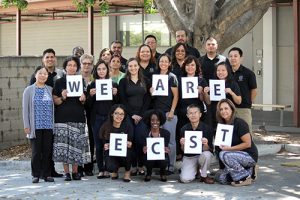 In her eyes, this passion toward family and helping each other only makes her engineering students more passionate about what they do. The welder turned engineering dean says teaching them how to be engineers so they can help their communities drives them to carry out their studies. This is especially important for students whose pre-college prep isn't always well-versed in math or science. Allen has worked with her faculty to develop a comprehensive first-year experience program (FYrE) to provide cohorting and peer-led instruction for freshman to give them a strong foundation for their studies. "Our students are committed, hard-working individuals. They're just fantastic, incredible people, and when I meet our alums I can see what a tremendous impact we have had on the region," she adds with a smile.
Future Initiatives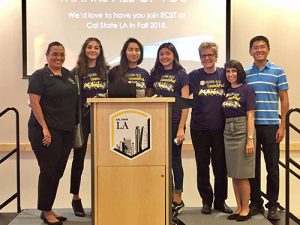 When it comes to getting more students interested in STEM fields, the veteran educator says her university is currently developing a summer camp called Launchpad, which aims to convince local high school Latinas that they can become engineers. Allen says overall, more Latinas than Latinos attend college in her region, but there are far less women in STEM fields. To account for this, her college will host a two-week camp where women complete a project based on the blend of computing, robotics and environmental science.
"Young women tend to respond more to 'how can I make the world better?' versus 'how can I make a cool widget?' But they need to know how to make cool widgets," Allen says, as she explains the reasoning behind the content. At the end of the program, they aspire to have 50 percent of rising high school senior women who attend the program matriculate into their school. It's an ambitious goal, but she has high hopes for the program, which will pilot during the summer of 2017.
ABET Thought Leader
While she was associate dean at San Jose State University, Allen was in charge of prepping her program for ABET accreditation visits. To stay connected to her discipline, material science, and to have a broader knowledge about the accreditation process, she later became an ABET Program Evaluator. Shortly after, a colleague nominated her to become part of the ABET's Academic Advisory Council (AAC), and from there she became chair of the newly instated Ad Hoc Committee on Diversity and Inclusion. On this committee, she and other members spoke with educators across the country to hear their thoughts on including diversity in ABET's accreditation policy, and they recently made recommendations to the Board of Directors based on their findings. Through Allen's work, there may be a shift in how institutions account for diversity and inclusion when developing their programs.
Involve me, and I learn
The famous quote "Tell me and I forget; teach me and I may remember; involve me, and I learn." adorns one of the walls at the ABET Learning Center at our headquarters in Baltimore, and it's something that resonates deeply with Allen today, who's main purpose as an educator is quite similar.
"[My mission is] helping [students] learn how to learn. It's not about delivering anything. I think, especially now, you can find all the content you want online. A good teacher can help you frame the context for this knowledge, help you understand the system of thinking behind it, and help you learn how to study and learn how to use this knowledge to do something…" she pauses. "It's really about helping people unlock their ability to learn things."
Through Allen's life experiences, she has been able to translate what she has learned to become a better educator, role model and leader. For her, teaching students how to learn is her life's work. "It gives me more satisfaction than anything else." Given her impressive track record, no one would dispute that.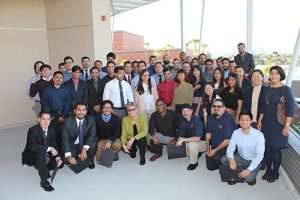 Emily Allen sits on the ABET Academic Advisory Council (AAC) and is the chair of the Ad Hoc Committee for Diversity and Inclusion. Her engagement with ABET started in 2012 as a program evaluator.
Photos provided by Emily Allen after story was originally published.