When asked if there is something that most people don't know about him, Humberto Gomez admits he is often caught up in the clouds. "Hello? Over here? Where are you?" his wife will regularly wave at him, trying to bring his attention back to the present.
But Gomez's mind is absorbed in important issues. Whether it be improving mechanical engineering courses for his students, taking care of his two young daughters or dwelling on the future of Colombia, Humberto is always checking in with himself on how he can be of assistance. "I want people to remember me as someone who is always willing to help," he says.
The ABET Expert has had a busy life so far. As a father, an ABET Expert and an educator, he is working to share the importance of learning from one another, one project at a time.
Engineering — A Global Profession
Gomez was born and raised in Barranquilla, Colombia, a coastal city that's home to the famous singer/songwriter Shakira and Modern Family actress Sofia Vergara. He stayed in his home city to attend La Universidad del Norte, where he received his bachelor's and master's degrees in mechanical engineering. But to finally carry out his goal of becoming an educator, in 2007, he moved to the U.S. to pursue his doctorate degree at the University of South Florida.
While in the States, Gomez completed an internship with General Motors in Warren, Mich., where he researched diamond coatings. He also welcomed his first daughter into the world. That is, while he was in the midst of writing his dissertation.
"People say, 'Oh, you know that's a big deal?' and I would say, 'Yeah, you know it's like having two babies at once,'" he laughs. "I told my friends that if they read my dissertation carefully, they will realize the moments when I was writing and my daughter had just woken up and started crying…I would be writing, writing, writing, and then, just period. But that's the reason the first page of my dissertation has a dedication to her [Samantha]."
Although challenging at times, Gomez sees these four years of studying in the U.S. as vital to his education. Mostly, he learned to collaborate with diverse perspectives in a group, as he had worked with many graduate students from all over the world. The cultural experience gave him a new outlook on engineering education as well.
"At the very end, [studying abroad] is more than the academic and technical experience that you have, right?" Gomez says, adding, "It's also about being exposed to new environments and learning how to navigate different cultures and different people, taking all the information from those experiences and starting to do things. It's a team-based work, but now it's global."
Helping Others Learn
After Gomez graduated and returned to his native Colombia in 2012, he took over as chair of the mechanical engineering department at Universidad del Norte, also called UniNorte for short. Now, he is a mechanical engineering professor there, and he encourages his students to think in broader terms than just Barranquilla, or even South America. "I will say to my students, 'The world is yours. It's not just where you are right now — it's not just the country where you are…you can learn from anybody, anywhere.'"
To promote this idea, Gomez says UniNorte encourages their students to expand their networks beyond Colombia. Recently, they developed an international capstone design experience with the University of Illinois at Urbana-Champaign so that Illinois Agricultural engineering students could collaborate with mechanical engineering students from UniNorte. Both groups work side-by-side to solve a real problem for a real company in the United States, and Gomez says the departments are looking forward to seeing the outcomes from this partnership. "We're really excited to see how they complement each other," he says with enthusiasm.
Gomez and his colleagues are always looking for ways to be innovative, so it only makes sense that this same program (mechanical engineering) was one of the first in Colombia to gain ABET accreditation. Now, 27 programs at six Colombian universities have achieved this revered status.
Today, Gomez is playing a part in helping other university programs across the country become ABET-accredited. Although he was finishing his doctorate degree when the university went through the initial accreditation process, he was involved in re-accrediting the mechanical engineering program over the past few years. During one of his programs' mock visits, a program evaluator motivated him to apply to become a volunteer, and he went through training this past spring (2017).
So far, Gomez has gone on a site visit as an observer, but he has been working with ABET in Colombia as well. In September, he helped lead a workshop with ABET leadership at the Colombian Association for Engineering Faculty (ACOFI) conference, which is held in Cartagena each year. There, he and two others presented to Colombian program leaders to disseminate the ABET philosophy. "We are not just discussing the criteria, we are discussing how to build a better program," he says, adding that continuous improvement should be the ultimate goal of accreditation, not just achieving the accreditation itself. "Accreditation isn't the only end result…Education is an infinite task. You always keep evolving, evolving, evolving."
Building a Future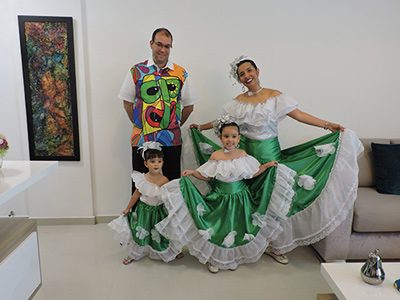 It must be something that is heavy on Gomez's mind, because more than once, he brings up how important it is for people of different backgrounds to connect and learn from one another. "There's no separation between professions, we have some work to do if we really want to tackle some of the challenges in our society," he adds with conviction.
The challenges he is referring to are ones that are the result of difficult times in Colombia. In Oct. 2016, citizens voted against a peace deal with the Revolutionary Armed Forces of Colombia (FARC) rebels, in what was an extremely tight referendum. Today, the nation is working to pick itself back up after more than 50 years of armed conflict. It's an emotional period, but Gomez says he is hoping for peace, even though the memory can't be erased.
"My hopes, for our country, is that we finally heal. We heal ourselves, our hearts…And I'm not saying that you have to forget, because the history will be there, forever, but I think it's time for healing. It's time to move on also, for the whole country." Gomez says solemnly.
Because of the political landscape, Gomez recognizes the responsibility that he and his colleagues bear when it comes to influencing his country's future. "It's a big responsibility for us, in that what we teach, what we instruct, what we project to our students will be what's happening to our country in future years," he explains, knowing that at this very moment history is being made in his home country.
As the world becomes more global, it's important for educators to recognize the role they play in developing not only their own nation, but the world. Their influence goes beyond their classrooms and institutions; it goes beyond engineering and technology. Educators like Gomez understand that the work that they do can transform people's lives and build a better world.
---
About ABET
ABET is a forward-thinking, purpose-driven organization recognized by the Council for Higher Education Accreditation. All over the world, ABET accredits college and university technical programs committed to the quality of the education they provide their students.
Based in Baltimore, we are a global company, with over 3,800 programs in 31 countries in the areas of applied and natural science, computing, engineering and engineering technology at the associate, bachelor and master degree levels.