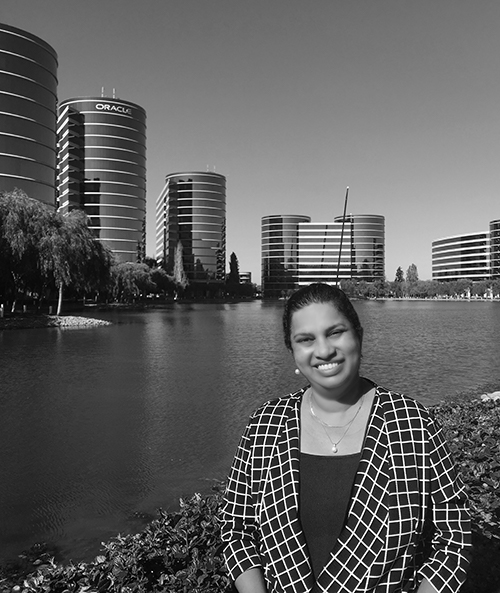 Curiosity doesn't kill—curiosity creates opportunities. For Jeewika Ranaweera, her curiosity and love for STEM (Science, Technology, Engineering and Math) have taken her from Sri Lanka to Cuba, then to Canada, and, ultimately, to the Silicon Valley. She's lived a life in and for engineering, and she hopes to inspire young adults in the STEM fields that the globe is crossable, especially for the lives they aspire to lead.
Originally from Sri Lanka, Ranaweera honed her almost-innate knack for mathematics at a high school there, Visakha Vidyalaya. Then she jumped at the opportunity offered by the Ministry of Higher Education in Sri Lanka to attend the Spanish-immersive Instituto Superior Politécnico José Antonio Echeverría (ISPJAE) in Havana, where she earned her Bachelor of Science in computer science and engineering. From there, Jeewika traveled to Canada to attend the University of Toronto where she graduated with her master's and Ph.D. in electrical and computer engineering.
Ranaweera is nonchalant when she talks about the various things she does to live an interesting life.  "I make my to-do list into a list of passions. That's how I keep things interesting" she says, with a hint of a satisfaction.
Currently, Ranaweera is a principal hardware engineer at Oracle, a computer technology corporation that specializes in developing and marketing computer hardware systems and enterprise software products. There, she is part of the team that develops high-end microprocessors that pushes the boundary of Moore's Law.
She finds Oracle to be a great place to work, with lots of opportunities to grow. As an active lead for Oracle Women in Leadership (OWL), she gets to network with like-minded women who are committed, diverse and passionate while enhancing her leadership skills. Through Oracle's Diversity and Inclusion, she recently shared her experience and insight as an engineer at the "True Blue Inclusion Solutions Forum" to tackle head-on issues that so far have rebuffed the change essential to make engineering jobs rewarding for women. Last year, she volunteered as a female technologist to develop a curriculum and deliver a workshop surrounding wearable technology through the Oracle Education Foundation. She also helps make a significant difference to the health and safety of employees by volunteering with Oracle's Emergency Response Team (ERT). As a member of ERT, she receives regular training on CPR, AED, 1st Aid, fire extinguisher and evacuation procedures that she could use anywhere in the community.
What is in her career that holds the most pride? The globe-trotting engineer points toward the ability to make a difference to change this world to be a better place. From developing new technology to inspiring young men and women to pursue STEM fields, she credits her determination and confidence as being key elements to success.
Through her work with ABET, Ranaweera has recognized that evaluating university programs gives her the opportunity to help guide the content, quality and delivery of electrical and computer engineering degree programs around the world. "I want to inspire students to follow their academic interests and ultimately go into a career in engineering, which is one of the most fascinating jobs in the world" she says with conviction.
Ranaweera is an IEEE Senior Member, a member of the IEEE Electron Device Society (EDS) Technology Computer-Aided Design Committee, and an EDS editor for special technical issues. To her, nothing has been more rewarding than being a judge at local and international science fairs, where she gets to motivate and stimulate the interests of students in the fields of science and engineering.
She also thrives on helping, advising, and supporting her son and daughter on the charities they founded to raise money for less fortunate children. "Spare A Quarter" brings awareness to end child marriages and Recycling4Smiles for cleft lip and palate among other causes benefiting children.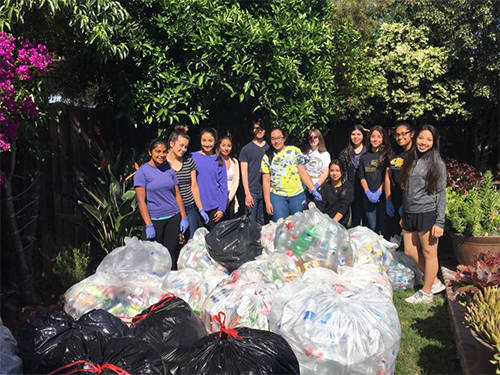 Ranaweera is an ABET Expert. As a program evaluator, she contributes to enhancing the quality of the education students receive worldwide. She is also a Senior Member of the Institute of Electrical and Electronics Engineers (IEEE), one of our 35 member societies. 
---
About ABET
ABET is a forward-thinking, purpose-driven organization recognized by the Council for Higher Education Accreditation. All over the world, ABET accredits college and university technical programs committed to the quality of the education they provide their students.
Based in Baltimore, we are a global company, with over 3,700 programs in 30 countries in the areas of applied science, computing, engineering and engineering technology at the associate, bachelor and master degree levels.