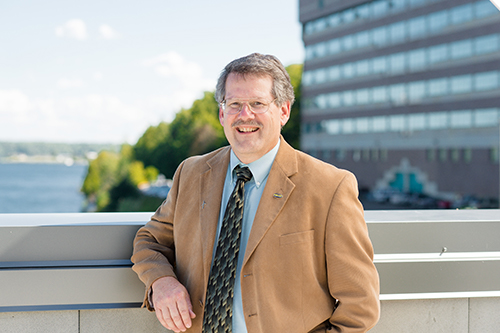 Leonard Bohmann is keenly aware that good engineering goes beyond solid bridges or state-of-the art buildings. For the ABET Expert, who has been a program evaluator since 2005, excellent engineering is designing with a purpose and involves gathering input from the community, using local resources and evaluating the impact on the environment. And it is this vision that moves him to constantly reshape and enhance his university's engineering programs.
As an associate dean for academic affairs at Michigan Technological University (Michigan Tech) and member of the ABET's Engineering Accreditation Commission since 2016, Bohmann aims to use perspectives he has gathered from trips around the world to give his students a well-rounded educational experience, preparing them to build a better world.
Midwest Livin'
Born into a family of 10, Bohmann lived in Ohio until after completing his bachelor's degree in electrical engineering at the University of Dayton. Three of his six sisters lived in Madison, Wis., so he moved to attend the University of Wisconsin-Madison (UW-Madison) to pursue his master's and Ph.D., also in electrical engineering. After spending time on the university's waterfront Memorial Union Terrace on Lake Mendota, he joined Hoofers, UW-Madison's outdoors club, and began to spend his weekends sailing and competing on Lake Mendota and Lake Michigan.
While working in a lab at UW, one of his colleagues introduced an open faculty position at Michigan Tech to him. It wasn't a tough sell. Through sailing he had learned to love the sparkling great lakes surrounding the Upper Peninsula of Michigan (which many Midwesterners fondly refer to as the "U.P."), and after graduation in the spring of 1989, he moved to Houghton, Mich. to begin his career in education there.
Designing Education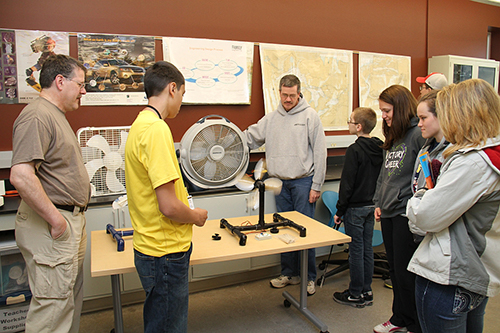 Although he taught his first class while he was a graduate student at UW-Madison, Bohmann began teaching classes on power systems and energy conversion in the fall of 1989. From 1998 to 2000, he chaired the department's Undergraduate Program Committee, where he reorganized the engineering department's curriculum, as Michigan Tech switched from quarters to semesters. After serving as interim chair of the electrical and computer engineering department from 2007 to 2008, he took over as associate dean for academic affairs within the college of engineering.
In his current role, he certainly sees the value that diversity and different perspectives bring to creating a comprehensive education. "I'm not an expert in all the different various engineering disciplines. I just know electrical engineering. And I wouldn't even want to put my own curriculum together because the best one comes from a diverse group," Bohmann explains.
This attitude has become more apparent after his 12 years of program evaluator site visits. From visiting countries such as Colombia and India to simply sharing thoughts with program evaluators from different parts of the world, Bohmann believes he is now open to perspectives and ideas he wouldn't have had access to before joining ABET. "We all go to disciplinary conferences, but on an ABET team, you got all these other engineers who really care about education, and you sit around and talk about the program you're visiting and engineering education in general…it's great fun," he chuckles.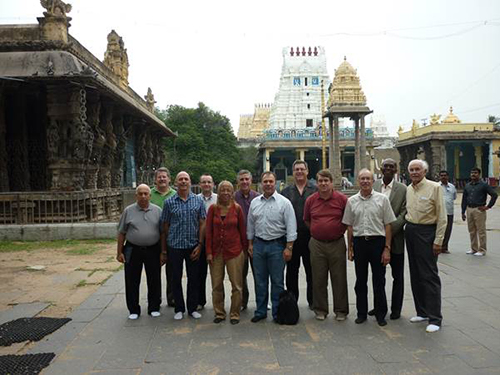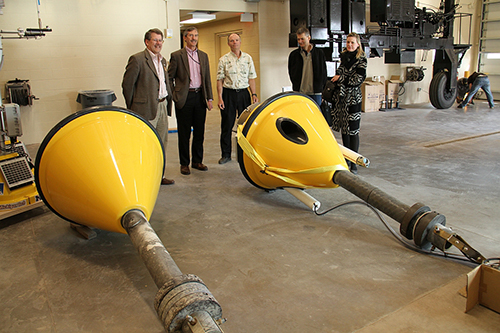 Bohmann has noticed over time that every university he visits has different foci. He mentions the Oregon Institute of Technology (Oregon Tech), which is the only university in North America to have an ABET-accredited renewable energy engineering program. Their commitment to renewable energy is so strong that they are the first university in North America to use geothermal heat and solar power to generate the majority of their campus electrical power; by 2050, they aim to be completely clean energy-powered and climate neutral.
Like Oregon Tech, Michigan Tech keeps their communities' needs and surroundings in mind when planning for their programs. For engineering senior design projects, as many as 70 percent are industry-sponsored. Bohmann remembers how one particular class teamed up with a local company to redesign a galvanic isolator, which protects submerged metal on boats from corrosion. They intended to improve the design of the device but instead discovered new suppliers for the parts, which ended up saving the company 30 percent in costs. "The company was really happy," he laughs.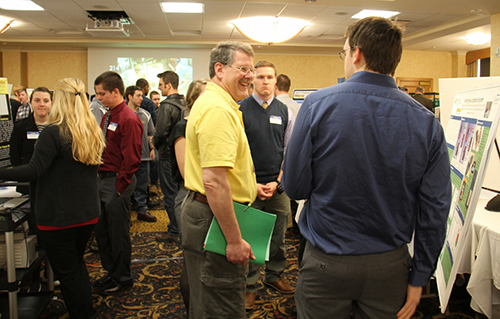 When it comes to interacting with their environment, a unique way students learn from Michigan's landscape is during the Michigan Tech Blizzard Baja SAE. Led by the student organization SAE international, teams of students with backgrounds in mechanical and electrical engineering, computer science, business and marketing meet to build off-road, single-seat vehicles that can withstand and race in rough terrain. Challenging their knowledge in engineering and manufacturing processes, the goal is to make the lightest, most efficient and comfortable vehicle possible.
Unlike Baja SAE races held on dirt, mountains or grass, the snow makes Houghton a difficult course, which is why every year Michigan Tech hosts 20 universities, some of them international, for the four-hour race on their campus. "We adapt things to the snow," Bohmann laughs. "Every school is like that — they're shaped by where they are." Even though students will be more adept at building and engineering for the snow, they'll also be more open to solving a variety of demanding problems; preparing them for the nonlinear complications of the real world.
Overall, it's not an easy task to plan an education for STEM students who, after graduation, will be building for all walks of life. But Bohmann says this is the most important part of his job. "It's about seeing how all the pieces fit together to make a coherent whole and figuring out how you can best meet your objective of educating a good engineer," he reflects. With new technologies continually being introduced and changing our world, this mindset can only take his students far.
About ABET
ABET is a forward-thinking, purpose-driven organization recognized by the Council for Higher Education Accreditation. All over the world, ABET accredits college and university technical programs committed to the quality of the education they provide their students.
Based in Baltimore, we are a global company, with over 3,700 programs in 30 countries in the areas of applied and natural science, computing, engineering and engineering technology at the associate, bachelor and master degree levels.