For 50 years the Los Angeles Music Center has been one of the world's premier performing arts centers, launching iconic plays like Children of a Lesser God and Angels in America, while amassing five Tony Awards. But after five decades, its owners decided to modernize.
That is why they turned to Lisa Sachs, an expert in construction management, to lead the restoration, renovation, and expansion of the Los Angeles Music Center, LA's most significant architectural complex, starting with the Mark Taper Forum.
A highly accomplished construction manager, Lisa's profession used to be a job performed by architects, engineers, or contractors with no formal construction or project management training–but with a knack for leading teams. But with projects like LA's Music Center, Lisa is proof that certain learned skills and abilities are essential to leading a successful construction project.
Balancing contradictory desires and having the near-prescient ability to spot project roadblocks are just two of the skills that Lisa employed in the planning of the soon-to-be renovated Dorothy Chandler Pavilion, home of the LA Opera, and recently renovated Mark Taper Forum.
The biggest issue with updating the aging theater was the lack of appropriate back of house space and guest amenities. The original design of the Taper had a very small lobby, no showers backstage, and hardly any women's bathrooms for its 750 guests. The clear solution would have been to build an addition, but altering the exterior architecture was not an option.
To make space where there wasn't any, those assigned to the project added bathrooms underneath the lobby within the parking structure. Then they removed dated mechanical systems out of the backstage and put new units on the roof, creating space within the theater without compromising the historical design.
As a construction manager, Lisa has to face all of these challenges along with conflicting historical, artistic, budgetary, and scheduling demands to successfully complete sensitive renovation projects on time and under budget.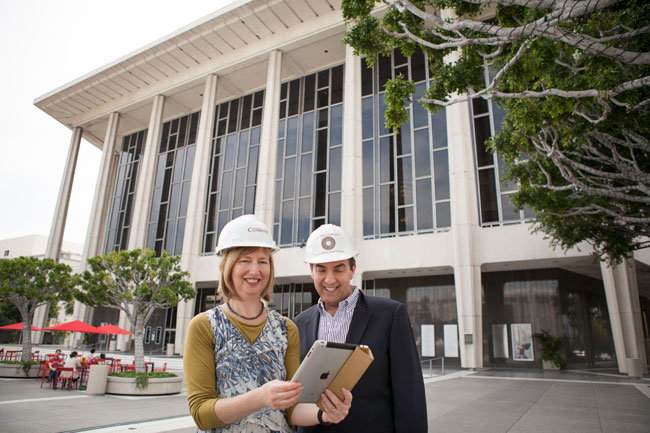 In 2008, she did just that, finishing the award-winning $30 million renovation of the Mark Taper Forum.
She believes that education focused on development of leadership skills with the requisite technical expertise will prepare future leaders to complete far more complicated projects in the future. Lisa's desire is to help shape educational programs that will build a workforce with the right skills and tact to recognize and overcome project pitfalls in order to achieve success.
Lisa's work on the Los Angeles Music Center is scheduled to finish in 2020; this includes the Dorothy Chandler Pavilion and Plaza restorations. When these projects are complete, she is confident the complex will last into the next century.
— Lisa serves as a commissioner on ABET's Applied Science Accreditation Commission, using her experience and leadership to guide the future of construction management education.
About ABET
ABET is a forward-thinking, purpose-driven organization recognized by the Council for Higher Education Accreditation. All over the world, ABET accredits college and university technical programs committed to the quality of the education they provide their students.
Based in Baltimore, we are a global company, with more than 3,500 programs in 29 countries in the areas of applied science, computing, engineering and engineering technology at the associate, bachelor and master degree levels.