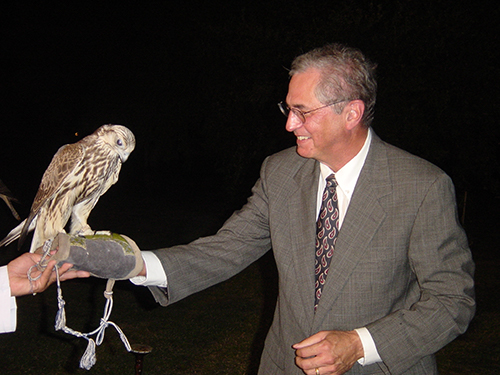 Mario Gonzalez has a voice that smiles and a poise that stems from humility and dignity. As a man holding numerous titles, such as engineer, war veteran and professor emeritus, Gonzalez places his successes upon fulfilling an insatiable need to learn. He recognizes how the sense of duty has organically threaded itself throughout his life, taking him from point A to point C and doubling back for point B. For Gonzalez, life holds linearity just as well as it holds interruption.
A Timeline
Hailing from Laredo, Texas, Gonzalez's career has mapped itself all over until coming to a fitting conclusion in the past years: the University of Texas at Austin. Before retirement, he worked there for 18 years after graduating in the 1960s with a bachelor's degree in engineering. With a hint of embarrassment, he admits he backed into engineering. "I said to myself, 'I don't want to be a doctor, I don't want to be a lawyer or a businessman.' And then there was engineering. But I have no regrets." From there, he got his first engineering job at Boeing, where he stayed for a year.
Boeing & Computers
Little did Gonzalez know that engineering wasn't going to be the sole focus of his career. "I started off at Boeing right from undergraduate school as an associate engineer, and they sent me to programming school for eight weeks to learn how to program a computer in FORTRAN 1 and FORTRAN 2 because we didn't have computer courses when I was an undergraduate. That really peaked my interest in computers," he recollects.
Because of the computer crash course, Gonzalez was one of the few engineers who understood the ins and outs of a computer. After learning of this, the departments contended for him and his freshly acquired expertise. New to the working world, to the company and to engineering, Gonzalez was humbled. Ultimately, he was assigned to the wind tunnel group.
"I worked with the engineers who were doing modeling. I had small roles in the design of the main landing gear of the 737 and the thrusters for the 727. Let me emphasize: small, minor roles. But what happened was that the engineers in the wind tunnel group had all this data, so I wrote a program to process that data, and from there it helped them with the design of their models. What a wonderful experience," he says, with his characteristic modesty.
Military Lessons
Serving in the military drove Gonzalez in more ways than one. As an active-duty soldier and a construction officer of the 84th Engineering Battalion in the Vietnam War, Gonzalez credits the ingraining of structure and discipline for all he accomplished after his tour ended. He never stopped learning while overseas. "We built billets, roads, ice plants, hospitals," he pauses. "Talk about real life education through a fire hose!"
Gonzalez recalls his time in the military fondly. "Whether it's at a ball game or some other event, when they say, 'All veterans please stand,' that's a real deal for me. I get a big kick out of saying this: in 1964 as a result of an act of Congress, I became an officer and a gentleman," his patriotism shining through as his voice cracks, with a hint of pride.
Overseas and with the war waning, Gonzalez realized his love for learning hadn't ceased; a curious, admirable trait coming from a perspective that has seen much of the world in too short a timeframe. Because of his work at Boeing, he understood that to return to work in the engineering and computing fields, he would need to go back to school and take modern technology classes. "Here I am in a tent in the Vietnamese jungle trying to submit an application for graduate school. I applied to the school that I knew: University of Texas at Austin!" he reminisces.
The Value of Learning through Teaching
In 1967, Gonzalez returned to the U.S. and entered the University of Texas at Austin's master's program. As he juggled schoolwork and his new family, he was offered a research assistantship, and upon completing his graduate studies, took a position with Texas Instruments. He transitioned then to academia, climbing the ladder until he became Vice Chancellor for Telecommunications and Information Technology with The University of Texas System.
Building from the Ground Up
Gonzalez has this bubbling urge to create and, again, to learn. After Texas Instruments and Northwestern University for four years, Gonzalez found himself as a professor at the doors of the University of Texas at San Antonio. This university presented the perfect opportunity to fill his love of creating and of learning, as it wanted its maiden engineering division.
"For the longest time it was just me and a part-time office assistant, "Gonzalez says with a smile, "I had to hire all the faculty, order the equipment — I remember going through 400 transcripts on my Saturdays to determine into what courses students should be placed. And now — wow — it's a huge program. It's very successful and accredited in a number of disciplines. And from very, very humble beginnings," he reminisces.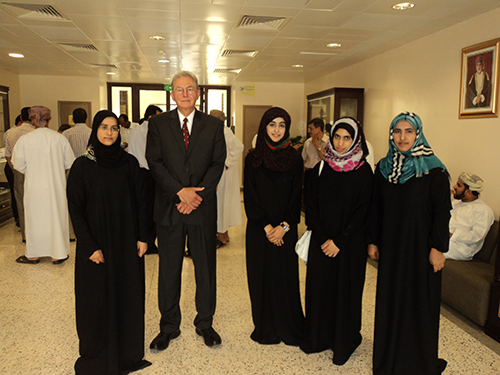 It Takes a Village
Gonzalez happily acknowledges the amount of support given to him along the way, from the Brothers at St. Joseph's Academy and his parents to his Ph.D. advisor and his spouse and friends. Coming from a a bilingual nuclear family, Gonzalez understands the importance of what a support system brings first-hand.
"I've worked very hard but I've had a lot of people helping me along the way. We are the union of all of our experiences. Things work out because you make them work out. You have to make the best of what you've got at every moment. And now here I am, almost 60 years later, and I've got say 'Wow. I was pretty lucky," he adds.
Gonzalez credits his love of science and mathematics to the nuns at St. Peter's School and the Marist Brothers at St. Joseph's Academy. They instilled a sense of duty and responsibility that the veteran engineer-turned-academic took with him into his adulthood, especially when he enlisted in the Vietnam War.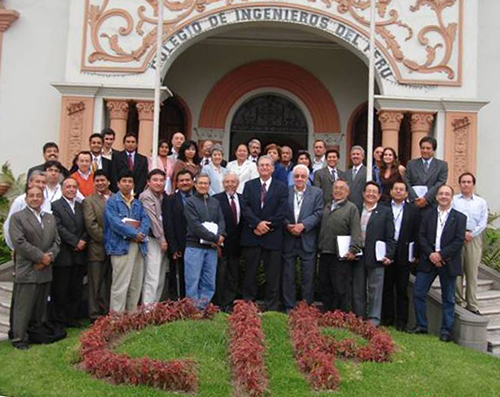 "ABET Opened the World for Me."
After traveling to more than 13 regions within 30 years for program evaluations, Gonzalez wouldn't want to learn any other way. Speaking about the future of engineers, he thought back to all the times his cousins, nephews and nieces have asked, "What should I do? What should I be?"
He had struggled for an answer that was just as pliant as he knew the world demands, until he heard what Michael Milligan, ABET Executive Director and CEO, had for an answer during a keynote address: "The engineer of the future should be able to work with anyone, anyplace."
"That encapsulates what we are about and where we're going. Can you see the connection between that and confidence? If you're going to work with anyone anywhere, you have got to be multilingual, multicultural, flexible and adaptable. I love that part of it. And I preach it everywhere I go," he says, his voice rising with eagerness.  For Gonzalez, it all comes around full circle.
Gonzalez is a Fellow of IEEE, ASEE and ABET. He has actively been involved with ABET for nearly 30 years and reviewed 28 programs for accreditation. He was also the recipient of the ASEE Centennial Medal in 1993.
---
About ABET
ABET is a forward-thinking, purpose-driven organization recognized by the Council for Higher Education Accreditation. All over the world, ABET accredits college and university technical programs committed to the quality of the education they provide their students.
Based in Baltimore, we are a global company, with over 3,700 programs in 30 countries in the areas of applied science, computing, engineering and engineering technology at the associate, bachelor and master degree levels.