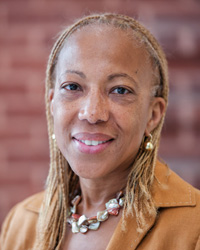 President Obama announced EAC Commissioner Lorraine Fleming, Ph.D., as one of 14 recipients of the Presidential Award for Excellence in Science, Mathematics, and Engineering Mentoring (PAESMEM), last March.
As America's highest mentoring award, PAESMEM recognizes the outstanding efforts of mentors in encouraging the next generation of innovators and developing a science and engineering workforce that reflects the diverse talent of America. The mentors will each receive a $10,000 award and be honored at a White House ceremony later this year.
Fleming received the award for her work as director and founder of the HUSEM (Howard University Science, Engineering and Mathematics) Program, a program that prepares students academically, socially, and professionally for careers in STEM. Since joining the Howard University faculty in 1985, the professor and former chair of the Department of Civil Engineering has led a number of research and intervention initiatives to attract and retain African-American students in STEM disciplines and to improve the quality of engineering education for undergraduates.
Beyond her work at Howard University, she is also a fellow of the American Society of Civil Engineers, a licensed professional engineer and has been a commissioner on the ABET Engineering Accreditation Commission since 2011.