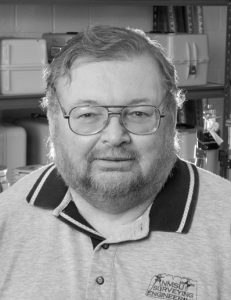 We were deeply saddened to learn of the passing of longtime ABET Expert Steven M. Frank, Ph.D., on January 21. Frank volunteered his time and expertise to ABET for over 20 years, most recently serving on the ABET Board of Delegates representing the National Society of Professional Surveyors (NSPS) until stepping down from the position late last year.
Frank earned his bachelor's degree in survey engineering and master's degree in civil engineering with an emphasis in survey engineering from the California State University, Fresno. He later earned his doctorate in survey engineering from the University of Maine. He was licensed as a professional land surveyor in the states of California and New Mexico.
Frank worked in industry before joining the faculty in the College of Engineering at New Mexico State University in 1994, where he worked as an assistant professor (1994-2000), associate professor (2000-2009) and professor until his retirement in 2017.
Frank was an outstanding educator and major contributor to the surveying profession. He was a NSPS Delegate to the International Federation of Surveyors (FIG), served as Chair of FIG Commission 2 (Professional Education) and also served as a director on the FIG Foundation Board from 2011 to 2014.
Frank was a longtime NSPS member and Fellow, having also served as a member of the American Congress on Surveying and Mapping (ACSM) before it merged into NSPS in 2012. Since becoming an ABET Program Evaluator (PEV), Frank has served at nearly every level of the organization and his commission. He joined the Applied and Natural Science Accreditation Commission (ANSAC) in 2009, rising through the officer chain and serving as 2013-2014 Chair of the commission.
In a recent interview with NSPS, his youngest brother shared that Frank was the eldest of six siblings who grew up as the children of a surveyor in Woodland, California, and that they worked with their dad on surveying projects. During his high school years, Frank worked in the County Surveyors office after school. He enjoyed fishing and camping, played on his high school football team and coached a softball team on which his sister played. Most of all, said Tim, they "always had fun."
Throughout his career, he contributed greatly to education, ABET accreditation and the surveying profession. We are grateful for his dedication and contributions, and he will be missed. Here are a few reflections from those who had the privilege of working with Frank over the years:
"Steve Frank served on ASAC from 2009 to 2015, rising through the executive committee to become the commission chair in 2011. Steve was a real gentleman, always concerned about others, always willing to take on assignments, continuing to be connected with ANSAC even after he became an area delegate. We will miss his cheerful presence."

– Amanda Reid, Adjunct Accreditation Director, Applied and Natural Science, ABET
"Steve was always willing to participate in ABET activities. He was a PEV for so long, he visited nearly all the ABET-accredited surveying programs. When he completed his tenure on ANSAC, Steve agreed to serve on the Board of Delegates and represent NSPS. Steve had a love for the surveying profession and shared his enthusiasm with students, colleagues, and other professionals. He loved to travel and participated in the International Federation of Surveyors conferences all around the world. Steve was a great person and we really miss him."

– Jason G. Racette, PLS, Vice President Land Surveying Services, Green Seal Environmental, Inc.; 2020-2021 ANSAC Chair
"Steve was a warm, friendly, funny guy, especially with his colleagues, and always willing to help his students and fellow professionals. He was often recognized for his service to his fellow surveyors throughout New Mexico, including being named New Mexico Surveyor of the Year in 2007. Steve's most recent service with ABET was as a member of the ANSAC Excom. During his ANSAC tenure, I had the pleasure of consulting with Steve often as we coordinated NSPS-related activities between EAC and ANSAC. Steve will most definitely be missed, not only by his ABET colleagues, but also his many friends and former students throughout the U.S. and the international surveying community."

– James R. (Jim) Plasker, P.E., F.ASCE, F.ACSM, F.ASPRS, Executive Director (retired), American Society for Photogrammetry and Remote Sensing; 2002-2003 ANSAC Chair