Cary, North Carolina — Longtime ABET Program Evaluator and Engineering Accreditation Commission (EAC) member Tony L. Mitchell, Ph.D., Lt. Colonel, USAF Ret., passed away on April 1, 2020.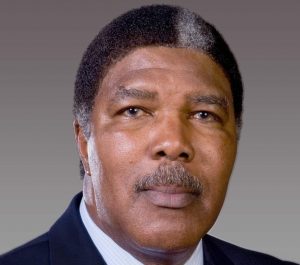 Mitchell served as a program evaluator since 2004 and an ABET commissioner representing IEEE since 2017. He was a Life Senior Member of IEEE and a member of the American Society of Engineering Education, or ASEE.
Mitchell earned his B.S. in mathematics education from North Carolina A&T State University, his M.S. in information and computer science from Georgia Institute of Technology and his Ph.D. in electrical and computer engineering from North Carolina State University at Raleigh.
Mitchell was an associate professor of electrical and computer engineering and assistant dean of the College of Engineering at NC State until he retired in 2011, after 31 years of university service. In 2015, he became an inaugural inductee into the school's Electrical and Computer Engineering (ECE) Hall of Fame.
Mitchell served as an NSF consultant and was a recipient of many awards and honors, including the 2000 Presidential Award for Excellence in Science, Mathematics and Engineering Mentoring, and grants of over $35 million.
During his time volunteering with ABET, he traveled internationally for program visits in South America, Europe, the Middle East and Southeast Asia. Here are a few reflections from those who had the privilege of working with Mitchell over the years:
"Tony was committed to ABET till the very end. Despite battling his illness, he maintained his commitment to preparing and making an ABET visit till he was admitted to the hospital for the final time… In my EAC visits with him, Tony was always the calming influence on the team. He was a gentle presence who connected especially well with his colleagues and with students!" – Bopaya Bidanda, Ph.D., Ernest Roth Professor & Department Chair, University of Pittsburgh; President-Elect, Institute of Industrial & Systems Engineers (IISE)
"I was co-Team Chair to Patsy Brackin on a visit to Indonesia. Tony was on that team and he was a consummate professional, a wonderfully gracious colleague, and a lot of fun to be around. He was thorough, balanced and fair in his evaluation, supportive of his colleagues. An active participant in meetings, he sought and gave feedback equally well." – Winston Erevelles, Ph.D., ABET Adjunct Accreditation Director, Engineering; Professor of Engineering and Dean of the School of Science, Engineering, and Technology at St. Mary's University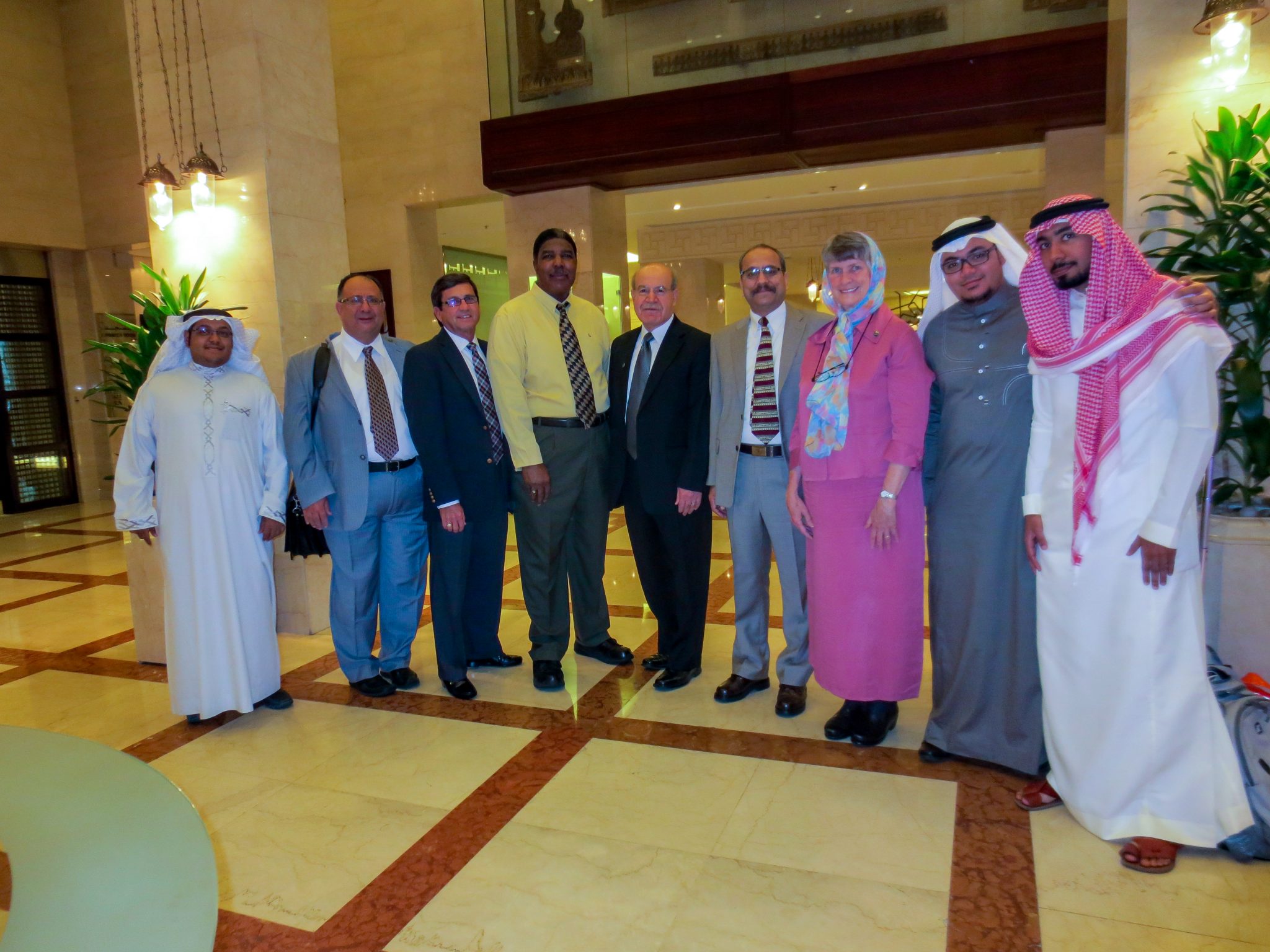 "In 2013, I was Team Chair for a visit in the holy city of Makkah, Saudi Arabia, and Tony was assigned as a program evaluator for computer engineering. Within the first couple of emails and phone calls, I knew he was a very special person — professional, friendly, thoughtful, honest and open. He didn't hesitate to reach out if he didn't understand an issue or needed help. When I asked him if he had received the documents he had requested from the program earlier in August, he replied, 'No, but it's okay. They're probably busy with their holy month of Ramadan activities, so I'll wait.' To me, this showed an amazing level of understanding, humility and care for others. He had a great sense of humor and his deep laughs were contagious! In all his interactions, he was positive, cheerful and uplifting.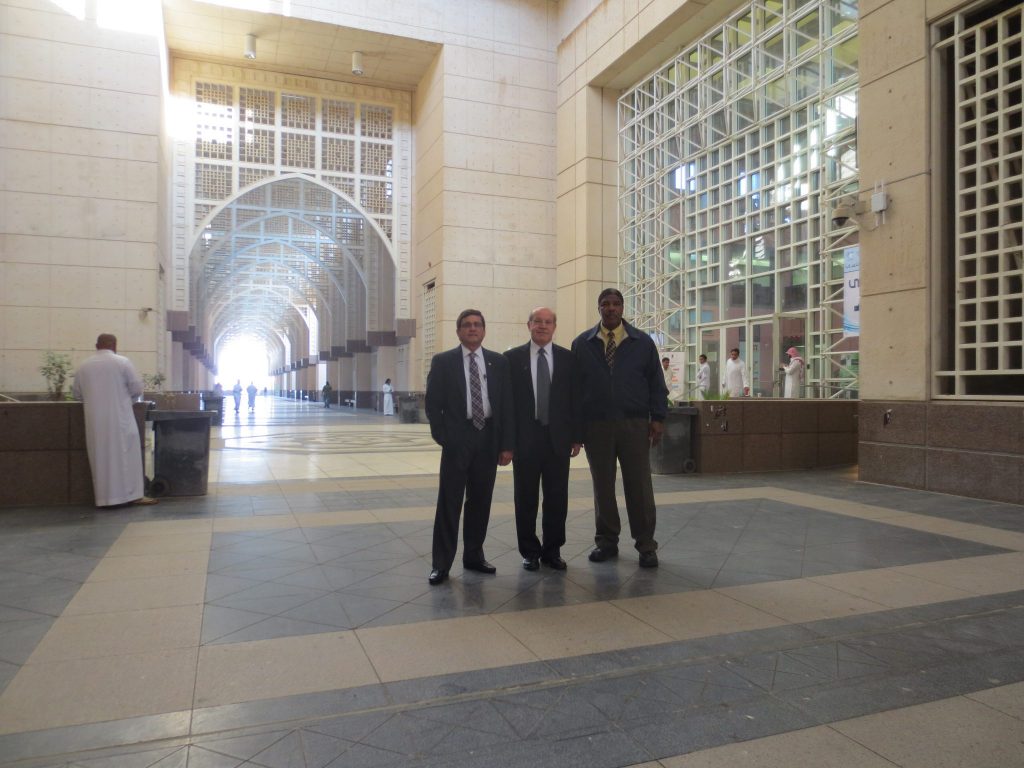 "Following a few telephone conversations, we met in Jeddah, Saudi Arabia. He was tall, he was big, with a huge heart and a beautiful smile. Every time I asked him about his preferences for food, activities, etc., he always started with a big smile or laugh and said, 'I am a member of the team, I'll go along with the team decision.' I would reply, 'But we like Big Tony's input,' and the rest of the team would concur because everyone loved and respected Tony.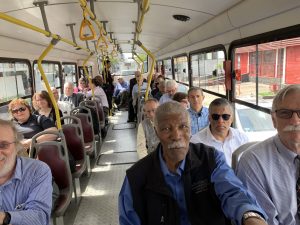 "In December of 2019, we were on another ABET visit together in Lima, Peru. Even though he was suffering from back pain, he wanted to make the extra effort to join all the group activities — a true team player and leader!
"Tony was a close and dear friend. He was a man of honesty, integrity, professionalism and deep faith. Tony wanted to lift people up. He appreciated and often expressed gratitude for the support of his friends and family, especially his wife.
"I am heartbroken with his passing and miss him very much." – Mo Hosni, Ph.D., Professor of Mechanical Engineering and the Frankenhoff Chair of Engineering at Kansas State University; 2018 ABET Fellow
"I first met Tony in the early-mid-80s when he arrived at NC State to work on his Ph.D. He was active duty in the Air Force and attending graduate school on an USAF Graduate Fellowship. His research was in the area of telecommunications and data networks. Although I did not have Tony as a student, we crossed paths in the NSF industry/university center on Communications and Signal Processing, where Tony's major professor and I both conducted research. After receiving his Ph.D. in 1987, he returned to active duty for several years. His dissertation won the USAD Research and Development Award in 1988. After 20 years of active duty, he retired and returned to NC State where he spent 30 years as a faculty member, Director of the Minority Engineering Programs and Assistant Dean in the College of Engineering. Tony was devoted to recruiting the best multicultural students to the college and ensuring they had every opportunity for success. In recognition of his many contributions to the department and college, he was admitted to the ECE department Hall of Fame in 2015. Tony was part of the team who received a 2000 Presidential Award for Excellence in Science, Mathematics and Engineering Mentoring Award for the impact achieved by the Minority Engineering Program and Women in Engineering Program in the College of Engineering at NC State.
"Tony was a wonderful colleague and outstanding ABET program evaluator. He will be greatly missed by all of us who were fortunate enough to spend time with him. Tony and I served together as faculty in the ECE Department at NC State, he worked for me as Director of the Minority Engineering Programs and we served together on ABET visit teams. Tony was one of those individuals who was always willing to lend a helping hand and contribute to the greater good." – Sarah Rajala, Professor Emeritus and Dean of Engineering, Iowa State University