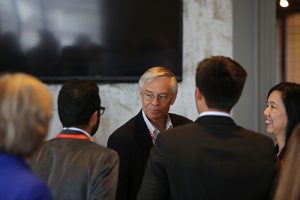 In May 2016, President Barack Obama made his first visit to Vietnam. During his opening remarks at a press conference with Vietnamese President Trần Đại Quang, Obama proudly referenced American academic and technology leaders spearheading efforts to improve Vietnamese STEM education. In this list, he named only one university, Arizona State University (ASU).
The man behind some of these remarkable endeavors is also an ABET Expert. Scott Danielson, who is on the ABET Board of Directors and a faculty member at ASU, has been working with United States Agency for International Development (USAID)-funded programs such as HEEAP, BUILD-IT and VULII, which aim to build the capacity of STEM programs at Vietnamese higher education institutions.
Developing a high-quality educational system
I'm lucky to catch up with Danielson while he's on duty at the ABET booth at the American Society for Engineering Education (ASEE) conference. During our conversation, Danielson talks about his current STEM education initiatives in Vietnam and work at ASU. A couple times, while sharing stories from his travels, he says he is often accused of having an odd sense humor. This prompts me to inquire about his unusual picture on LinkedIn, which shows a life-like cheetah peering glumly behind his shoulder.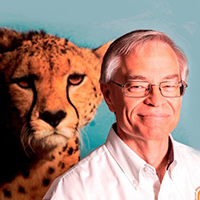 With a chuckle, he explains that a colleague gifted him the print after it misprinted, and since it hangs behind his desk, the feline appears to lurk behind him on his webcam during video conferences. "In my intro slide for workshops, sometimes I'll use that picture. I'll usually make a joke and say, 'I'm the one on the right. The cat is my house cat named Snookums,'" he laughs. "It doesn't always translate well," he admits, referring to the language barrier that sometimes comes with working internationally.
Reflecting on his time in industry, the veteran engineer says he finds parallels between educational issues in Vietnam and issues encountered when he first started working: oftentimes, he needed to know information that he had not learned in school. In Vietnam, industry was also facing the same challenge. "Industry, like [the Intel Corporation], was finding that graduates were classically trained, but they were not able to come into their jobs and do what the companies needed," Danielson explains. But he adds that the early education system needed changing as well, "Vietnamese children are taught from an early age: do not question the teacher. The teacher is right. The sky out there isn't really blue. It's purple. That ripples into university education. Part of what we want students to do is to question things," he adds with conviction.
The ASU initiatives aim to teach Vietnamese educators methods to combat this problem. Many engineering programs are still structured in a traditional manner, i.e., having class in large lecture halls, focusing largely on theory and checking students' knowledge mainly with a midterm and a final test. ASU's job is then to come in and upend this way thinking.
Danielson and his colleagues are introducing concepts of project-based and distance learning, as well as environments such as makerspaces to the Vietnam education arena. They have seen significant success in just a few years. "When I look back to schools in 2013 and what they're doing now in 2017, they've really taken a hold and gone," he reflects. "When we first started working with them, distance education was a novel concept."
ASU began invoking these changes with the start of the USAID and Intel Corporation-funded Higher Engineering Education Alliance Program (HEEAP) in 2010, which aimed to improve mechanical engineering and electrical engineering and engineering technology programs. They started by bringing Vietnamese faculty to ASU to teach them more modern teaching practices, for example, project-based learning. Although this was a good start, it wasn't enough. "If the faculty changed but the rest of the system didn't change, the faculty are going to beat their head against the wall," he affirms.
To address this concern, in 2012, ASU convinced USAID to fund the Vocational University Leadership Innovation Institute (VULII). VULII focused on creating systemic change across five Vietnamese universities and three vocational colleges. Danielson took his first trip to Vietnam when he became involved in this project in 2013, and he took over as project director in 2014. From then until the project ended in the summer of 2016, he provided educational capacity-building and training workshops to Vietnamese ministry officials, high and mid-level academic administrators and other engineering program leaders across Vietnam.
As VULII ended, Danielson became involved with the USAID-sponsored Building University-Industry Learning and Development through Innovation and Technology (BUILD-IT) initiative, which ASU leads as well. Their goals with this project are to increase industry's involvement with STEM programs as well as to improve the quality of the programs through institutional change. ASU trains university leadership to bring more project-based work into their curriculums, and it has a heavier focus on using technology to advance education. The addition of Makerspaces and student-industry engagement events make it more of an immersive learning environment as well.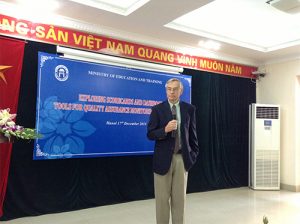 With all these changes happening in Vietnam in conjunction with ASU's efforts, accreditation has also become a hot topic in the country. This past summer, the Hanoi government passed a decree that every program must obtain accreditation. Danielson says one reason Vietnamese seek out external validation is that there is a level of mistrust in the government, so accreditation can offer a "true" check on a program's efforts.
One type of international accreditation available to Vietnamese programs is through ASEAN University Network-Quality Assurance (AUN-QA). This accreditation does not solely accredit STEM programs as is the case of ABET, so any type of program can obtain it, but Danielson argues that the process often poses a challenge for educators. Both ABET and AUN-QA require a Self-Study Report (SSR) (AUN-QA calls it a Self-Assessment Report, SAR), however, AUN-QA does not provide a template for educators to guide the process, while each ABET commission does. Not to mention the AUN-QA assessment guidelines itself is over 200 pages, whereas the ABET Engineering Accreditation Commission (EAC) document is just 25. This, Danielson says, often leads to them spending time creating a huge report, which they also may have to translate to English. Danielson adds that he and his colleagues are trying to help develop an AUN-QA template for those criteria closely related to BUILD-IT goals, so if a program does elect to pursue AUN-QA accreditation, at least the university leaders will have a starting point. "It's not like we're AUN-QA experts…but if we improve the program, that's going to improve the educational system," he explains.
As an ABET Expert, Danielson sees the value in pursuing ABET accreditation but says it's not always an option for programs who don't have enough funding. One Vietnamese university, however, decided some years ago to pursue ABET accreditation. The Ho Chi Minh City University of Technology now has two programs that are ABET-accredited: computer engineering and computer science. Danielson is hoping that others will soon follow suit.
In addition to Vietnam, Danielson also extended his engineering education expertise to the ASU Leadership in Engineering Education Accreditation Project (LEEAP) in Indonesia, which was also USAID-funded. There, he helped teach university leadership how to practice continuous program improvement, and as well as to develop their teaching methods. The project's ultimate goal was to help Indonesian programs obtain international accreditation.
When reflecting on his time spent in these Asian countries, Danielson smiles as he recounts several instances where the Vietnamese or Indonesian people have shown gratitude for his work. From a food and beverage supervisor that worked in Danielson's hotel to a random woman he encountered at an ATM, people have been appreciative of the positive change ASU has been generating. "It's been some of the most meaningful work that I've done in my career," Danielson says with a mixture of pride and gratitude.
Danielson says spending so much time traveling to South Asian countries has created a respect and admiration for a different way of life. He references a travel column that Ian Fleming, the author of the James Bond series, once wrote for the London Times. Fleming advised visiting the eastern hemisphere because of its potential, "We had the analogy, 'Go west, young man' in the United States, but I would also echo Fleming's advice. Go East."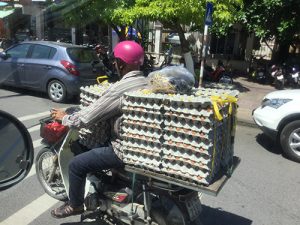 At ABET, our Experts and their work to improve the quality of STEM education worldwide inspires us. Scott Danielson is undoubtedly an example of how ABET Experts are helping to build a safer, more efficient, sustainable world.
Scott Danielson has been an ABET Expert since 2003. Previously, he was a member of the Executive Committee, and he is now the Engineering Technology Area Delegation Director and sits on the Board of Directors. He is slated to be the vice chair of operations of the Engineering Technology Accreditation Commission (ETAC) Executive Committee in July 2018.
---
About ABET
ABET is a forward-thinking, purpose-driven organization. All over the world, ABET accredits college and university technical programs committed to the quality of the education they provide their students.
Based in Baltimore, we are a global company, with over 3,700 programs in 30 countries in the areas of applied and natural science, computing, engineering and engineering technology at the associate, bachelor and master degree levels.