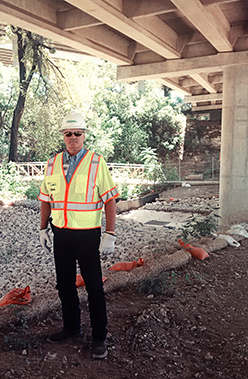 Bret M. Clausen is the man with the plan –– to keep you safe. With his warm voice and a good-natured laugh, it's no wonder his job surrounds helping others. He currently works for CH2M as a Health, Safety and Environment (HSE) Director. His most recent challenge has been overseeing the safety measures for the installation of a natural gas processing facility for a major natural gas field production expansion in Alaska.
The Alaska LNG Project
In Alaska, local legislature is partnered with private companies to explore development of a major pipeline from the North Slope to the Kenai Peninsula, gathering facilities, and a major Liquefied Natural Gas (LNG) plant for export of the liquefied natural gas. Along the way, natural gas would also be provided to Fairbanks and Anchorage. The new gas processing facility at Point Thompson, lying about 60 miles west of Prudhoe Bay, will be a major supply source for the project. Clausen and his team's job is to ensure the safety for the entire project – the people working on it and also the environment.
As Director of the Health, Safety and Environment, Clausen and his team developed the project's comprehensive mitigation measures well before any manual labor began. These measures include a health and safety plan that coincides with an additional environmental compliance plan.
"Our company motto is 'Target Zero.' The idea is to accomplish our work with zero injuries or illnesses, zero adverse-effect to the environment and zero impact from a property and a security standpoint," he says.
This new plant separates natural gas liquids from natural gas; the goal is to compress and reinject the gas that isn't used by the locals in order to spur "enhanced recovery." In this way, gas liquids, any light hydro-carbon fractions such as propane and butane, become more accessible.
"In other words, you're pressurizing the subsurface in order to force out more liquids for recovery," Clausen quickly summarizes. As of now, the plant contributes up to 10,000 barrels of natural gas liquids via pipeline to Prudhoe Bay; it then connects to the Trans-Alaska Pipeline System.
His work and commitment to his field has minimized the impact of man on nature and, specifically on this job, the tundra.
When physically on site, Clausen conducts safety meetings, focusing not only on the preparation for safety communication among the workers, but also on the communication with the client regarding environmental and safety regulations and requirements. Sporting the classic clipboard, he supervises anything from fall protection and excavation requirements to welding health hazards with heavy metals and ionizing radiation safety precautions.
"It's an ongoing interaction. The whole idea is to be a coach and mentor there – act as a resource," he explains, referring to his daily work. "But part of the role is to have a responsibility for oversight to make sure we're implementing policies and procedures and what we're doing is according to our approved plans."
Background and Getting Started
Hailing from Loveland, Colo., Clausen dabbled in forestry before finding his passion for environmental health and occupational safety. "I ran into another student that was in the industrial hygiene program. Once I took a couple of classes, I was hooked," he says with a chuckle.
Since graduating from Colorado State University with a bachelor's degree in environmental health and a master's degree in industrial science with a focus on occupational safety, Clausen has taken advantage of his engineering opportunities to work for a greater good.
Inspired by many, especially his first-year college professor Harry Beaulieu, who helped jumpstart his focus in industrial hygiene, Clausen has worked in risk management, corporate construction groups, private consultation, and has held directorial and senior advising positions. "I want to keep up to something – keep things fresh," Clausen laughs, looking back at his career path with CH2M and other government and commercial clients.
Fast forward to 36 years later, Clausen is the Director of Health, Security and Environment for CH2M's Transportation Group. Describing himself as a generalist, he dedicates himself to seeing "the big picture" and taking into account a variety of angles on every task his company assigns to his department.
Looking Toward the Future
His long-term plan is to be on a team pursuing the joint project – mentioned earlier – between the state of Alaska and a few other companies such as ExxonMobil. The proposal is to build a gas compressor facility in Prudhoe Bay and then a liquefied natural gas plant in the Kenai Peninsula with a connecting 36-inch gas line from Prudhoe Bay.
"The intent would be to provide local gas to Fairbanks, Alaska, via a 12-inch spur, and to the Anchorage Valley for domestic use. The surplus gas would be liquefied and available for export. This kind of project is groundbreaking and a look to the future for the industry," he says with pride.
Clausen also plans on staying involved with ABET, where he is currently serving on the Board of Directors as the Area Director for the Applied Science Area Delegation. His involvement began when he decided to make a change after being dissatisfied with new employee hires. He was looking to hire graduates whose education gave them the type of confidence that was not only written on their résumés, but was also demonstrated through their abilities.
When speaking from an employer's standpoint, Clausen believes that accreditation plays an important role as a quality control mechanism.
"I strongly believe in the good that comes from quality education. Accreditation ensures that we're getting good technical education from the folks that take the time to go through the accreditation process," he says with a sense of urgency. "Accreditation gives me more confidence in the level of the individual when I go out to look for a new hire just entering the field. It's worthwhile."
— After being passed down his father's motorcycle, Clausen took a liking to the bike himself and now rides and also hunts in his spare time. When not bike-riding through Colorado and its surrounding states or making worksites and projects a safer place, Bret Clausen spends his spare time serving on the ABET Board of Directors.
_____________________________________________
About ABET
ABET is a forward-thinking, purpose-driven organization recognized by the Council for Higher Education Accreditation. All over the world, ABET accredits college and university technical programs committed to the quality of the education they provide their students.
Based in Baltimore, we are a global company, with more than 3,500 programs in 29 countries in the areas of applied science, computing, engineering and engineering technology at the associate, bachelor and master degree levels.