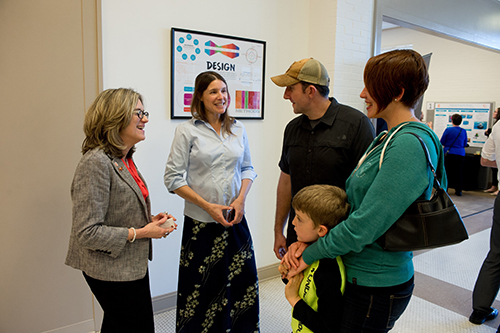 At the beginning of her TEDx Talk, "Engineering – Where are the girls and why aren't they here?" Jenna Carpenter states, "By the second grade, both boys and girls are well-acquainted with the notion that 'math is for boys.'" For the rest of her 12-minute talk, she delicately unfolds the reasons behind this problem and follows-up with proven suggestions on how to fix it.
Most people in STEM fields often listen to similar speeches: speakers list problems, they provide solutions. But Carpenter approaches this sensitive topic by framing her TEDx talk with examples, research and facts that don't throw blame to one person or group. Rather than igniting anxiety or resentment, she instead urges the audience to reflect on and become conscious of our thoughts, ideas and actions, while simultaneously reminding us that there are ways to avoid bias.
Carpenter, who is now the founding dean of the school of engineering at Campbell University in Buies Creek, North Carolina, shares this same assuredness and enthusiasm as she talks about the joys and challenges of building a curriculum from scratch — one that is ethical, sustainable and most importantly, drives the notion that math is not for boys, but for everyone.
Honing Early Interests
When Carpenter was in the third grade in the 1960s, her dad purchased a calculator, a rare product to own at that time. "I don't know anyone else who had one," she remembers. "He got one as soon as it was possible to buy one for oneself."
Although her parents were not STEM professionals, the act of owning a mathematical instrument was a symbol of the high-value her family placed in the field. She says that this, combined with her early love for blocks, which teach pre-math skills, set the precedence for her to choose her career path. "I really have been interested in STEM my whole life…I was just wired that way," she reflects.
Although she was originally born in Corsicana, Texas, and later grew up in Arkansas, Carpenter spent a large portion of her life in Louisiana, where she would later graduate with a bachelor's in mathematics from Louisiana Tech University and a Ph.D. in mathematics from Louisiana State University. She remained in the state to join her alma mater, Louisiana Tech, as an assistant professor in 1989. There, she spent 26 years honing in leadership and communication skills, her first leadership position as director of the College of Engineering and Science, and later as the associate dean of undergraduate studies. Her tenure at Louisiana Tech would prepare her to become founding dean of the school of engineering at Campbell University.
Creating a School
When you speak with Carpenter today, it's immediately evident that she is a woman with conviction; she speaks confidently, and her reasons are always backed by facts. Talking to her now, a month after her first wave of freshmen engineering students attended their first year at Campbell, you can hear the excitement and pride in her voice.
When beginning the conversation of how this all happened, the first question that comes to mind is how she became dean. According to the Society of Women Engineers (SWE), only 54 women at university engineering schools hold leadership positions such as director or dean in the country. The information does not surprise Carpenter. She explains that there isn't a large pool of eligible women to choose from, and, even if you are eligible, you have to be a "superstar."
Usually, this is due to what Carpenter and others call implicit, or unintentional, bias, which is something she is devoted to sharing and overcoming in society. She emphasizes that both men and women are equally guilty of it. "We tend to devalue women's work and contributions," she explains. "So it makes it hard for a woman to rise to position as dean, and dean positions in engineering are darn hard to come by. They're scarcer than hen's teeth."
After 18 years of administrative experience, Carpenter certainly was qualified for the job. However, when Campbell University initially approached her for the position, she wasn't sure it was something she wanted to pursue. In fact, after leaving Louisiana Tech, she technically retired. "I know, I flunked retirement," she laughs.
However, several things drew her to take on the challenge. The university had recently created other schools, so they were familiar with the process. The school was also in a great location; the Raleigh-Durham area is in the midst of Research Triangle Park, which she describes as the engineering version of Silicon Valley, so there are many engineering opportunities, employers and organizations. But, most importantly, the demand for an engineering program was high. "The more I looked into it, the more intrigued I was," she says, looking back.
She wanted to create something innovative, and when she began planning for the general engineering degree (with concentrations in mechanical and chemical/pharmaceutical engineering), she made sure to devote time to researching best practices and new approaches to teaching engineering. Hiring the best possible faculty and administrators also stacked at the top of her list—but after looking all over the country, she was able to form a diverse, qualified staff. In fact, come August, 83 percent of her faculty will be female, and 100 percent of her administrators will be female. "Having a good, broad net helps you get a diverse group. You know they are just fantastic faculty," she says with a smile in her voice.
The program gained much more traction than they expected. Ninety-four students enrolled–double their original goal. The professors opted to teach using a class-lab format that Carpenter helped create at Louisiana Tech, LivingWithTheLab, where both class and lab time are combined into one class period. Campbell believes this way of immediately demonstrating concepts, rather than staring at pictures in a book, particularly resonates well with millennial students, who are eager to be hands-on.
In fact, much of their curriculum is project-based. Last spring, students were assigned to invent or improve a product. One team partnered with Bee Downtown, an organization that sells beehives for urban areas, and redesigned three news model for the beehive frame; something that has barely changed since the 1800s. Another team created a Plexiglas box that cools and keeps your cell phone dry while simultaneously charging it using solar power—perfect for fishing on the North Carolina lakes.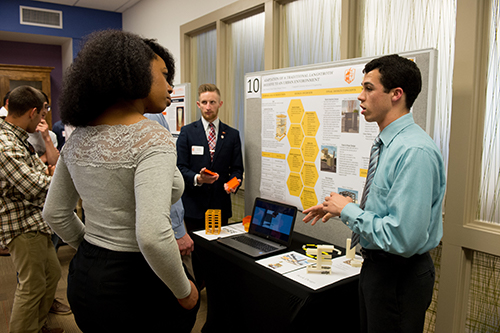 In addition to curricula, ethics and diversity are also at the forefront of their students' development. For example, the faculty led an exercise called "Engineering Horror Stories" around Halloween last year, which pointed out unintentional, unforeseen and ethical failures in engineering, and professors often have their students write reflections on ethics in engineering. She also wants her students to be aware of microaggressions, or small instances of micro-insults that happen to minority and underrepresented groups, which she explains are often due to unintentional societal bias. According to research, these often occur in small teams, and this ultimately causes those affected to drop out of the engineering major altogether. These practices, she hopes, will better prepare her students for what is now becoming an increasingly more global engineering world.
With the success of Campbell's first year behind her, Carpenter says she and her team are looking into starting concentrations in other engineering disciplines soon, and they want to keep adding student chapters and organizations to the campus. In fact, the Engineering School recently finalized a student section with SWE and a student chapter within the National Society of Professional Engineers (NSPE).
A Champion for Change
Before Carpenter began her time at Campbell in 2015, she had been leading a culture change for quite some time. She is past president of the Women in Engineering ProActive Network (WEPAN) and spent nine years on their board of directors, where she made four visits to the White House under the Obama Administration to share her research on diversity in STEM and higher education. Back when she was at Louisiana Tech, she served as the Principle Investigator for a National Science Foundation (NSF) ADVANCE grant, which improved the culture for female faculty in STEM. In all, she has received over $2.5 million in federal funding to advance diversity & inclusion in STEM and STEM education.
You could say Carpenter has had a lot on her plate. So how does she still have time to be an ABET Program Evaluator? She says that as both department head and associate dean at Louisiana Tech, she has personally written or overseen 14 programs write ABET reports and achieve reaccreditation. And she believes that the best way to stay up-to-date is to be part of the process. "You collect a lot of knowledge and information, and you'd be crazy to not utilize that. And it's only fair to give back," she says.
Through her initiatives, Carpenter has become a nationally regarded figure in STEM higher education. With today's high demand for well-qualified STEM professionals, our society needs more leaders like her who can prepare our students for a global, diverse and more inclusive world.
Jenna Carpenter has been volunteering as an ABET Program Evaluator since 2011. She is an American Society for Engineering (ASEE) Fellow and received the WEPAN Distinguished Service Award in 2013. Dreambox Learning named her one of its 10 Women in STEM Who Rock in 2015.
You can see her TEDx talk here.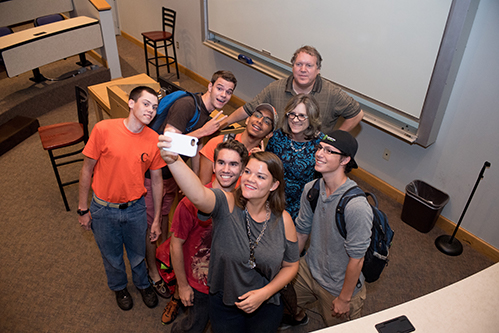 ---
About ABET
ABET is a forward-thinking, purpose-driven organization recognized by the Council for Higher Education Accreditation. All over the world, ABET accredits college and university technical programs committed to the quality of the education they provide their students.
Based in Baltimore, we are a global company, with over 3,700 programs in 30 countries in the areas of applied and natural science, computing, engineering and engineering technology at the associate, bachelor and master degree levels.