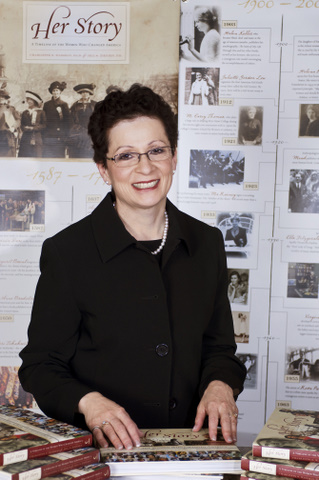 Jill Tietjen is bringing new life to the past. Introducing the modern woman to the passion, determination and persistence of history's greatest — and too often forgotten — women, she is one of the leaders in the movement for equal historical recognition. "I tell the stories of great women and I aspire to change the perception of women around the world," she explains.
Beginnings
The first female engineer graduated in 1876; Tietjen followed suit one hundred years later, in 1976. Accepted to the University of Virginia after its third year of converting to co-education, she made the Wahoos proud and became one of seven women in a program that graduated 220 engineers a year.
As her education and career progressed, she had the opportunity to work with many people who became strong mentors. Tietjen credits her statics, thermodynamics and humanities professors for offering their support, knowledge and professional opportunities during her college years: "They took me under their wings. I've always had someone throughout my career who looked after my interests, who made sure that I got opportunities — and that I said 'yes' to opportunities and took advantage of them."
However, as time went on Tietjen took notice of the lack of female engineers. She wanted to change that.
On Speaking
Tietjen's ascension within the engineering and public speaking realm was organic. From graduating with the first wave of female engineers at UVA to obtaining leadership positions in the Society of Women Engineers, she became the perfect advocate for women in STEM.
Giving a succinct history lesson, Tietjen shares that women graduating with B.S. degrees in engineering are still less than 20 percent of the total degrees awarded nationwide. However, that is a vast improvement from 1972 when the percentage was merely one. When Tietjen learned this, she pushed for even more change. She dedicated 16 years to research that formed the foundation for her bestselling and award-winning book, Her Story: A Timeline of the Women Who Changed America, as well as five years to writing it with her co-author, Charlotte Waisman. After researching and learning about so many remarkable women, Tietjen agrees that one stuck with her the most: Admiral Grace Murray Hopper.
When people think of the individuals who paved the way for our era of internet and iPhones, their minds probably snap to Bill Gates or perhaps Tim Berners-Lee or Vint Cerf. But if Tietjen has her way, more people will start thinking of Admiral Hopper. "Most people don't know who she is," she laughs a bit wistfully. "Admiral Hopper laid the groundwork for the information age," she adds.
"Admiral Hopper invented the computer compiler. That is the computer software that translates human languages into the 0s and 1s that the computer understands. So we wouldn't be able to have personal computers, iPads or any kind of devices like them without the work that she did," she summarizes.
Hopper was also the first individual woman to win the National Medal of Technology — a win for women, and for Tietjen as well. Tietjen described her research about Hopper as being "the catalyst for everything." After her election to the National Board of the Society of Women Engineers and her introduction to the National Medal of Science and National Medal of Technology, Tietjen began nominating women for national awards. Hopper was her second try at a nomination.
"When I looked at what [Admiral Hopper] had done, I realized that if I did a good enough job on her nomination that she would receive the National Medal of Technology. And then she was the first individual woman to receive it. I mean, that's a big deal! Women need to be nominated for awards," she says. "Hopper was very ill at the time and she asked me to receive the Medal for her at the White House Rose Garden from the first President Bush. What an honor for me!"
It was during that awards ceremony that Jill saw her work break through. Every other person receiving the National Medal of Technology was a man, so Hopper's award was very important to all women.
"The fact that I was able to successfully nominate her means that all the work that I did and the two years I spent on that nomination, everything that I learned just confirms all the work that I've done since," she says.
After, Tietjen nominated Hopper to the National Women's Hall of Fame (Seneca Falls, New York). This award was presented posthumously, and Hopper's family asked Tietjen to accept and receive the medallion from the Hall.
From her early days in SWE, Tietjen has spoken at universities and conferences. Ultimately, she founded her own business, Technically Speaking (2002), and is currently President and CEO. "All the books that I write, all the speaking I do, everything, is in [Technically Speaking]. It's my business; it's everything I do," she says with pride.
The Now
Today, Tietjen's work in the technical field revolves around planning for power plants and assessing fuels, primarily coal. She serves as an expert witness for regulatory hearings regarding power plants. "I do generation planning work for utilities, so that means I do analyses that need to be done (or oversee that analysis), and then at the end I write the reports and testimony and serve as an expert witness in the associated regulatory proceedings," she explains.
When it comes to planning work, her main focus is projecting the cost and feasibility of power plant operation into the future. Tietjen oversees the models that predict which power plants will be required over the planning horizon (usually the next 20 years) and how much that operation will cost. These growth projections result in decisions for new generation facilities (conventional as well as renewables including solar and wind); Tietjen helps her clients justify these results in the regulatory arena.
Tietjen's current life focus is advocacy for women. This involves speaking and writing, as well as ancillary activities that include an educational app, a television show, more Her Story volumes and serving as the series editor for Springer's Women in Engineering and Science series. Her e-book in IEEE's Women in Engineering series came out in early 2016.
Words of Encouragement
Maintaining a strong affiliation with the University of Colorado, where she was the director of Women in Engineering in the College of Engineering and Applied Science (1997-2000), Tietjen returns to encourage young women in the engineering and science programs to work for tomorrow, but also to not forget to look behind them as well.
As a Lifetime Girl Scout, she addresses the code when speaking to the young girls: Courage, Confidence and Character. Reflecting however, Tietjen recognizes that she didn't see herself as being confident, rather she simply lived by her own idea: "If I worked at something hard enough and long enough, I could get it done." Giving back to those before her, as well as promoting the women of today while preparing the women of tomorrow, she champions women everywhere, no matter what age and regardless of educational status, to be — and then to stay — "passionate, determined and persistent."
Tietjen was an ABET Program Evaluator for the Engineering Accreditation Commission (EAC) from 1997-2008, and served as a commissioner for the EAC from 2004-2008.
---
About ABET
ABET is a forward-thinking, purpose-driven organization recognized by the Council for Higher Education Accreditation. All over the world, ABET accredits college and university technical programs committed to the quality of the education they provide their students.
Based in Baltimore, we are a global company, with over 3,700 programs in 30 countries in the areas of applied science, computing, engineering and engineering technology at the associate, bachelor and master degree levels.