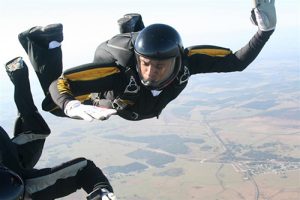 When asked what lies at the top of his bucket list, Kevin Huggins hesitates. Admittedly, he says he has been fortunate to knock out a few already — he has jumped out planes, has a lovely family and has traveled the world, thanks mainly to his career in the Army. However, what stretch goal remains for Huggins? After a pause, he answers, "To teach my kids how to skydive and then video them as they compete," he says with a mixture of pride and excitement.
It wasn't climbing K2 or scuba diving on the Great Barrier Reef. The first thing to come to his mind — to watch someone else accomplish something — a theme that drives our conversation. Huggins, a commissioner for the Computer Accreditation Commission and one of ABET's longtime workshop facilitators, cares deeply about those around him, and this compassion echoes throughout his personal and professional life.
For The Greater Good
Kevin says he takes after his mother. He admires her selflessness, always putting family first. Now, raising his own family, Huggins is that figure for his nearest and dearest.
It only makes sense that this trait has driven his professional life as well. As a young man, he joined the Army to serve his country, became a teacher to educate young minds and volunteered at ABET to improve STEM education for future graduates.
Huggins' first trip abroad was to Colombia, during the summer prior to his junior year at the United States Military Academy. It wasn't the beaches and the coffee, biodiversity or emeralds that made a lasting impression on the young West Point cadet. It was the people. He realized at a young age that it was not where he was, but more importantly, with whom he was able to share the experience. He was intrigued by a culture that was so different from what he knew in the U.S. but admired the sense of community and the genuine people in South America. This had a profound impact on him that led to multiple tours in Latin America with the military and eventually, his keen interests in international engineering education.
In addition to embracing new cultures, Huggins also loved the challenge of learning new languages and later in life became fluent in French and Spanish. He received his Ph.D. in computer science in France from MINES Paris Tech and was later a visiting scientist at ENSTA Paris Tech, where he studied parallel algorithms for multiprocessor system-on-chip (MPSoC) architectures.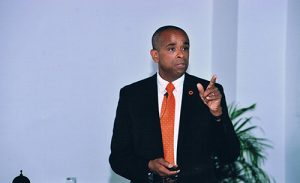 After getting his Ph.D., Kevin returned to West Point, but this time as director of international outreach for electrical engineering and computer science at his alma mater. He began to work closely with Colonel Eugene Ressler — at the time, the head of the department of electrical engineering and computer science who Huggins credits as being one of the deepest thinkers he has ever met. Through their work relationship, Huggins noted that Ressler had a talent for making everyone around him feel appreciated and respected.
We all admire those with traits that we want in ourselves. His mother's focus on others and his former boss' ability to encourage others guided Huggins and eventually led him to ABET. By serving as a program evaluator, team chair and commissioner for the CAC, he is able to give back to higher education by helping evaluate and sharing his knowledge of computer science. He also serves as a facilitator for ABET's program assessment workshops where he works with faculty and administrators interested in learning more about assessment.
But that is not enough to keep the former globetrotter busy, he knew there was more he wanted to do. After relocating to Pennsylvania with his family, he accepted a position with Harrisburg University as a professor of computer science and analytics, where he is responsible for program assessment.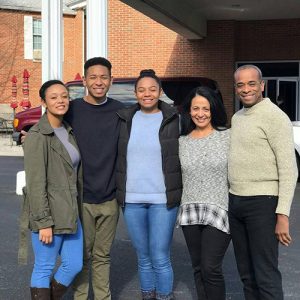 Talking with Huggins is easy. He listens carefully as you speak, making sure that he understands what you are saying, and takes a bit to respond. He cares about what you have to say even if it's "What is your favorite happy hour drink?" He is soft-spoken and takes the time to evaluate situations, and responds in a kind and constructive manner, which makes him a natural facilitator.
From the way he listens attentively, to his genuine desire to help people realize their potential, and his willingness to partner with people and empower them to do their best; everything about Huggins boils down to one expression: servant leadership. So when it comes to his personal motto, Huggins is quick to say: "It is amazing what you can accomplish if you do not care who gets the credit." It is a famous quote from Harry S. Truman, but it fits him perfectly. From talking to him or just from observing his interactions with others, it is very clear that Huggins thoroughly enjoys working together for the greater good.
And just in case you are still wondering, his happy hour drink of choice was a Coca-Cola.
---
About ABET
ABET is a forward-thinking, purpose-driven organization recognized by the Council for Higher Education Accreditation. All over the world, ABET accredits college and university technical programs committed to the quality of the education they provide their students.
Based in Baltimore, we are a global company, with over 3,800 programs in 31 countries in the areas of applied and natural science, computing, engineering and engineering technology at the associate, bachelor and master degree levels.