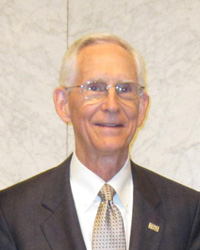 When Joe Turner first learned about the Seoul Accord, he was not visiting South Korea. He was not executing his duties as Professor of Computer Science at Clemson University. He wasn't even preparing for his year as Dean of the College of Information Systems at Zayed University in the United Arab Emirates. Joe Turner first learned about the Seoul Accord while surrounded by the steep, craggy mountains that parallel Canada's Pacific Coast.
In 2006, Turner was representing the Association for Computing Machinery (ACM), one of the organizations that comprises ABET's member society CSAB, when some of the International Federation for Information Processing's member societies were meeting in Vancouver, British Columbia. This was where several South Korean colleagues presented the idea of establishing a mutual recognition agreement for computing and IT-related programs, similar to the Washington Accord for engineering.
Establishing the Seoul Accord
In November 2007, Turner represented ABET during the Seoul Accord's inaugural exploration and planning meeting in South Korea, missing his own induction as an ABET Fellow to convene with agents from the other founding member organizations:
After the meeting, Turner commenced the daunting tasks of drafting the new agreement's governance documents.
"During the next several months, I did a good bit of the writing of the accord documents, using the Washington Accord documents as a guide," Turner said. "Then, there was a working meeting, held again in Seoul, that I attended with (then ABET Executive Director) George Peterson at which most of the accord's basic principles and launch plans were agreed."
The Seoul Accord agreement was signed on December 6, 2008, and Turner became its Interim Chair. He was elected as the first official Chair in 2009 and then re-elected to the post in 2011 and 2013. Under Turner's leadership, the signatories have refined the rules and procedures and established graduate attributes that well-prepared, entry-level computing professionals should exhibit. In addition, the accord reviewed Hong Kong Institution of Engineers and Institute of Engineering Education Taiwan and admitted them as new signatories.
Recapping Recent Developments
At its June 2015 meeting in Istanbul, the Seoul Accord made several decisions that will expand the accord's reach and ensure even more global mobility for computing professionals.
For the first time, the Seoul Accord recognized programs that the signatories accredit outside of their jurisdictions. For example, the accord now recognizes ABET-accredited computing programs located outside of the United States, such as those in Bahrain, Ecuador, Lebanon, Morocco, and The Philippines. This decision will assist employers and graduate programs in determining if graduates of ABET-accredited computing and IT-related programs worldwide may be recognized in another Seoul Accord signatory's jurisdiction.
ABET had undergone a review to remain a signatory and received full recognition for the next six years.
The Seoul Accord admitted its first three provisional members:
Engineers Ireland
Institute of IT Professionals New Zealand
Philippine Computer Society Information & Computing Accreditation Board
"Provisional members are normally admitted for up to four years, during which time they are expected to be reviewed and considered for full signatory status," Turner stated. "This is the culmination of efforts to begin growth in membership of the accord."
Passing the Torch
When this most recent meeting concluded, Turner stepped down as Chair and for the first time left this position in another's hands. Even so, Turner looks forward to seeing continued progress on the project he shepherded for so long.
"Hopefully, the accord will continue to grow," he said. "About six organizations who are not currently members have expressed interest in eventually joining the accord, and once the accord becomes better known, this number should increase. There also has been some initial discussion on increasing the scope of the accord beyond its current focus on baccalaureate-level programs."
As for Turner himself, he will continue to serve as an ABET program evaluator or team chair when the Computing Accreditation Commission calls upon him. However, his work with the Seoul Accord – which had already garnered him ABET's highest honor, the Linton E. Grinter Distinguished Service Award, in 2011 – has been one of the highlights of his 30 years of volunteer service around computing accreditation.
"Being involved in the planning of the Seoul Accord and its leadership from the beginning has been a very rewarding experience," he said. "I am grateful to ABET for supporting my work with the accord during the past seven years."