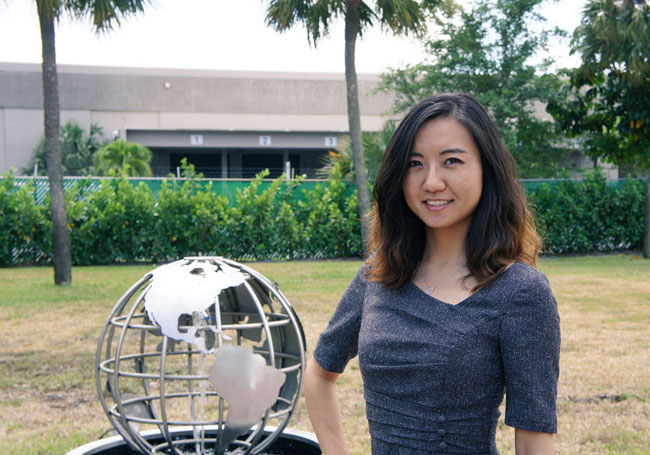 Ying Zhen is at the beginning of her career, but she is anything but a rookie. In 2011 she took a position at Belzona Global LLC. It is a new chemical manufacturing division in Miami, and her job was to set up the organization's entire EHS (environmental health and safety) compliance from scratch. It was her first job out of college.
Being the only EHS professional on board, there was nobody to guide her on what she needed to do or how to do it. This was a challenge she overcame with initiative, drive, and the discipline to continuously learn and build knowledge in her profession.
When she started, Belzona Global was in the beginning stages of getting permits and local approval to build the facility's chemical production area in Miami. Ying hit the ground running.
When Ying first started, she set up the company's OSHA (Occupational Safety & Health Administration) compliance programs and developed the training plan for every department. With production just beginning, she carried out hazard assessment, started to purchase personal protective equipment, implemented the respiratory protection program, and set up hazardous waste management.
She also set to work compiling information and generating reports to meet local authorities' request for approvals. To get the local city's approval to produce chemicals, she tapped into various resources to evaluate the impact their facility would have on the community, including monitoring air emissions with a photoionization detector and implementing a Spill Prevention, Control and Countermeasure (SPCC) plan.
Belzona Global has been growing so fast that the production space Ying obtained approval for is already being expanded. She has just obtained the approval to increase chemical storage and is preparing to enlarge chemical production.
How did she accomplish all of this? She sought out courses and training. She also drew on the wisdom of her professors from the University of Central Missouri and the connections she made at the American Industrial Hygiene Conference and Exposition (AIHce).
After five months, Ying got her first employee. Within two years of being hired, Ying added a second staff to her team. By then, products manufactured by Belzona in Miami were being sold internationally. Currently, her team is using the most advanced database and started to use a shared SDS (Safety Data Sheet) authorizing software with their UK sister company to generate GHS (Globally Harmonized Standard) complied documents for different regions and languages.
Ying had a very clear goal in mind when she entered college: helping people. But when she graduated with a bachelor's degree in food science in her native China, she was disappointed to find that the positions available to her would only help people in indirect ways.
Graduate study gave Ying the fundamental skills and abilities to launch her career in industrial hygiene. But she believes that the real value of her education came from the indispensable network of mentors that she built, a network that she continues to call upon for knowledge and direction. Her dream is to become an expert, a thought leader in her chosen field. Considering her track record, it is a goal she will surely attain.
— Ying Zhen is a graduate of the ABET-accredited Master's program in industrial hygiene at the University of Central Missouri. ABET accreditation was one of the reasons why she chose to study there.
About ABET
ABET is a forward-thinking, purpose-driven organization recognized by the Council for Higher Education Accreditation. All over the world, ABET accredits college and university technical programs committed to the quality of the education they provide their students.
Based in Baltimore, we are a global company, with more than 3,500 programs in 29 countries in the areas of applied science, computing, engineering and engineering technology at the associate, bachelor and master degree levels.