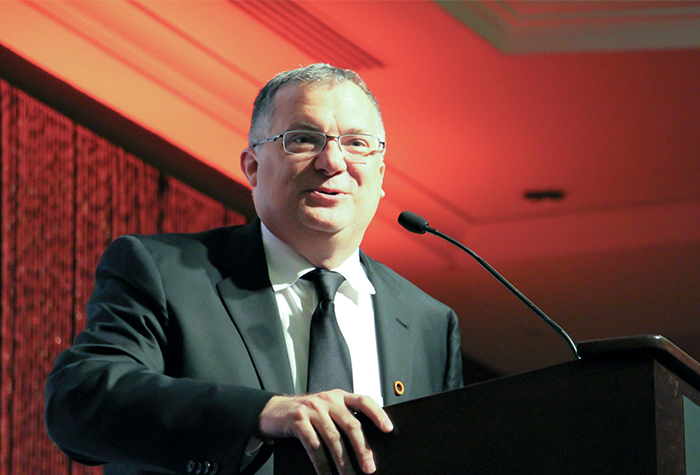 Allen Parrish takes it one day at a time.
"I just wake up every day and try to do something good. It's kind of a one day at a time kind of life for me. I'm just glad to be here."
This type of modesty isn't something you would automatically apply to someone who has helped change the inner-workings of law enforcement. His external component, outside of teaching and researching at the United States Naval Academy, is cyber security at a federal level.
Understanding Defense
Parrish, a graduate of the University of Tennessee at Martin for his bachelor's and a graduate of the Ohio State University for his master's and doctorate in computer and information science, is Chair and a professor in the Department of Cyber Science at the U.S. Naval Academy. There, he is shedding light on cyber defense practices that can be implemented for diversion tactics and protection of the U.S. government and its citizens.
"The first thing that people really think about when they hear 'cyber security' is 'defense,'" Allen neatly summarizes. One response tactic of cyber security is digital forensics. "In the case of digital forensics, you have to use digital data to solve crimes, like recovering data off of digital devices. Some of the crimes aren't cyber in nature, but you still have to solve them in ways similar to other ways of defense," he explains.
A veteran in the classroom, Allen is keenly aware of the impact his work can have on future computing professionals. "Working with students and then working with commands allows us to develop relevant curriculum and to produce students who are ready for the next generation of challenges. There are people out there who want to do something to your system for all kinds of nefarious reasons, and presumably there is a time when the military has to respond to that. The prevalence of cyber-attacks," he trails before restating with conviction, "We need to prepare forces for that."
Something Parrish notes as a vital role in understanding cyber security is a constant need for growth. He prefaces that teaching cyber-attacks is part of the whole portfolio of cyber security. For that growth to be continuous, there is a system among cyber computer scientists called penetration testing. "Penetration testing involves people giving permission to you to attack their systems so that they can empirically discover vulnerabilities. I can't really know how well-defended my system is if I don't have any current attackers. And so you have to kind of understand that to understand defense you must employ [hacking] as a modality, like launching a missile or any other type of attack," Parrish clarifies.
Making American Protection "Safer and Less Intrusive"
Before working at the U.S. Naval Academy, Parrish dedicated 26 years to the University of Alabama as a Computer Science professor. There, he honed in on the integration of modern technology with law enforcement. He helped found the Center for Advanced Public Safety (CAPS), scaling a research center from zero to 150 employees composed of software developers and faculty to undergraduate and graduate students.
"We were working on data analytics, new ways of capturing data in the field, new systems for giving traffic tickets and writing crash reports. All of the things that law enforcement does typically. Back in those days that was some pretty novel stuff. They were using paper and it was inefficient and sort of a messy process," Parrish explains.
Working extensively in the security world, Parrish created new technology that was implemented in a dozen states over the years.
"We developed dozens of systems using every new technology that came along in the past 15 years — anything from mobile devices to RFID (radio-frequency identification). The goal was to try to collect data more efficiently and have it available for analysis and use so that law enforcement could be more effective and eventually save lives," he says, delving further into CAPS' goals.
Parrish and his team's technology varies state by state. Currently, their ticketing technology is active in Alabama, Mississippi and Arkansas, and their crash reporting technology is used in those same states, save Mississippi. They also work on electronic titling and commercial-vehicle weigh stations. In total, Allen and his team have worked in Florida, Tennessee, Delaware and west to Wyoming. CAPS also has a project in Alaska and Puerto Rico. They are also making roads safer. "We have worked on mandatory liability insurance and have really led the country to checking to see if a motorist is uninsured. In doing that, we lowered the uninsured motors rate by half in Alabama," he says with a sense of pride.
Confidence in Continuous Improvement
Having been involved with ABET at almost every level for the last 20 years, Parrish regards the organization as a stimulus for ideas. He believes working at ABET is a great opportunity to interact with a lot of different people and to really get some positive takeaways that he can apply back at his own program. "ABET not only helps you measure, but it also helps you identify what types of things are needed to make improvements. In some sense, I think the fact that ABET drives programs to look at themselves and adopt some kind of quality improvement process and ultimately get better is its real strength," he explains.
Parrish is a strong advocate of ABET and the value accreditation brings to programs, but he also sees the opportunities it brings to program evaluators. "It's a good way to stay involved with the best practices, to pitch in and help shape what a quality education really means. And it's a good way to meet a lot of people who are likeminded. The interactions with those people help sharpen my thinking about how to better do things, like assessment and other types of activities related to quality improvement for education," he adds.
In his work leading programs in cybersecurity or partnering with law enforcement, confidence is crucial. And Parrish exudes that. And you can hear the same confidence when he speaks of his work with ABET. "When I think of 'Be Confident,' I think of getting as good as you can be, and ABET is the catalyst to do that."
​— Parrish serves as a member on the Computing Accreditation Commission, and he has been a CSAB Representative since 2015 (Term1). He became an ABET Fellow in 2016.
---
About ABET
ABET is a forward-thinking, purpose-driven organization recognized by the Council for Higher Education Accreditation. All over the world, ABET accredits college and university technical programs committed to the quality of the education they provide their students.
Based in Baltimore, we are a global organization, with over 3,700 programs in 30 countries in the areas of applied science, computing, engineering and engineering technology at the associate, bachelor and master degree levels.
Additional information regarding ABET, its member societies and the accreditation process can be found at www.abet.org.