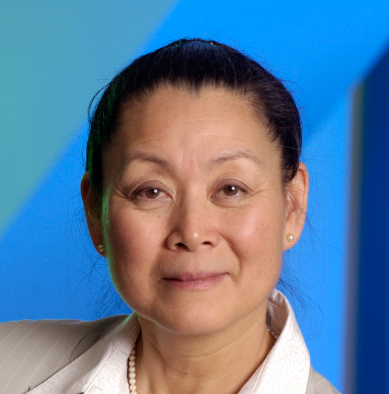 You know times have changed when people do not automatically assume a woman in a large multinational engineering company is the office administrator. Dianne Chong, Ph.D., EAC Commissioner, says the scene was not uncommon during the early stages of her career, when people seemed puzzled to see a woman among other male engineers. Over the last few decades, the number of women has gradually increased in the engineering and other technology fields and, fortunately, Chong has been around long enough to witness some positive changes.
After receiving her bachelor's degrees in both biology and psychology at the University of Illinois, Chong went on to receive her master's degrees in physiology and metallurgical engineering. After spending five years working as a physiological psychologist, she decided it was time to go back to school for her Ph.D. That was when she was asked to consider engineering. Her advisor played a key role. "When I met my late advisor, Prof. William Rostoker, I was inspired to go into metallurgical engineering. I feel that the transition for me was natural since my master's was on titanium prostheses," Chong recalls.
In 1986, Chong received her Ph.D. in metallurgical engineering from the University of Illinois. The new degree prepared her for a life-long career in engineering. She never looked back.
Career at Boeing
That same year, Chong started at the Boeing Company. Today, 29 years later, she serves as Vice President of Assembly, Factory and Support Technology in the Boeing Engineering, Operations and Technology organization. Over the years, Chong's role and responsibilities within the company have greatly evolved.
"I have had multiple jobs in the company over time. I have been a researcher and managed research projects. I have also been a functional department head and led teams on production program teams in both the commercial and defense/space business units of the company. My responsibilities have grown over time to include large functions across the enterprise," Chong explains.
ABET Commissioner and Program Evaluator
About 15 years ago, Chong first heard of ABET through discussions with other industry managers. Her passion for education and desire to contribute to quality improvement of engineering programs motivated her to become an ABET Program Evaluator.
At first, she served as a program evaluator for SME for 10 years by supporting their accreditation activities and program criteria. For the last five years, Chong has been an Engineering Accreditation Commission (EAC) Commissioner.
"I find all my experiences with ABET to be very positive. I have learned a lot about the various engineering programs in a variety of institutions. I have also been able to meet others who share my passion for excellence in education and have very good dialogues with them," she says with enthusiasm.
Society of Women Engineers
Chong certainly likes to keep busy. For over 25 years, she has also been a dedicated member of the Society of Women Engineers (SWE) and encourages others interested in engineering to become involved.
"I think that members of SWE serve an important role in providing role models for other women and for young women considering careers in engineering," Chong explains. "We can also be mentors and help others shape their careers."
Last year, SWE became an associate member society of ABET and Chong believes that this new relationship has impacted and benefited both organizations tremendously.
"This association can benefit ABET by making more women engineers realize they can participate in ABET and have a positive impact on engineering program quality, as evaluators or as commission members. It also benefits SWE since it provides an added venue for their members to participate in engineering quality assessment," Chong adds. SWE members interested in becoming program evaluators need to contact their technical societies about their specific requirements. You can find more information here.
Women at Work
But despite all the changes in the workplace, the reality is there is a common trend within the engineering industry: women end up leaving the job market because they find it too challenging to balance work and a family or other responsibilities.
"The advice that I give both men and women is that work-life balance needs to be aggressively managed. You need to understand what you truly value and work toward making that successful. You also have to communicate well with your partner and make certain that s/he is part of the decision-making process," says Chong, speaking from experience.
Despite the challenges, Chong remains optimistic and says that the conditions for women in the job market have increasingly improved, and more women are being hired and stay within the industry for many years.
"I feel that conditions have improved over the last 30 years. Quite a while ago, companies were concerned about hiring women and investing in their training only to have them leave. That fear discouraged many companies from hiring women. I think the culture has switched from that to one where there are services available to encourage women to stay."
In addition to remaining in the job market and advancing her careers, Chong strongly advocates for minorities and females to be involved with ABET.
"Members of industry hire graduates of these programs and should be involved in curriculum and educational objectives. I encourage women to participate since they bring a diverse perspective to understanding the process," Chong emphasizes.