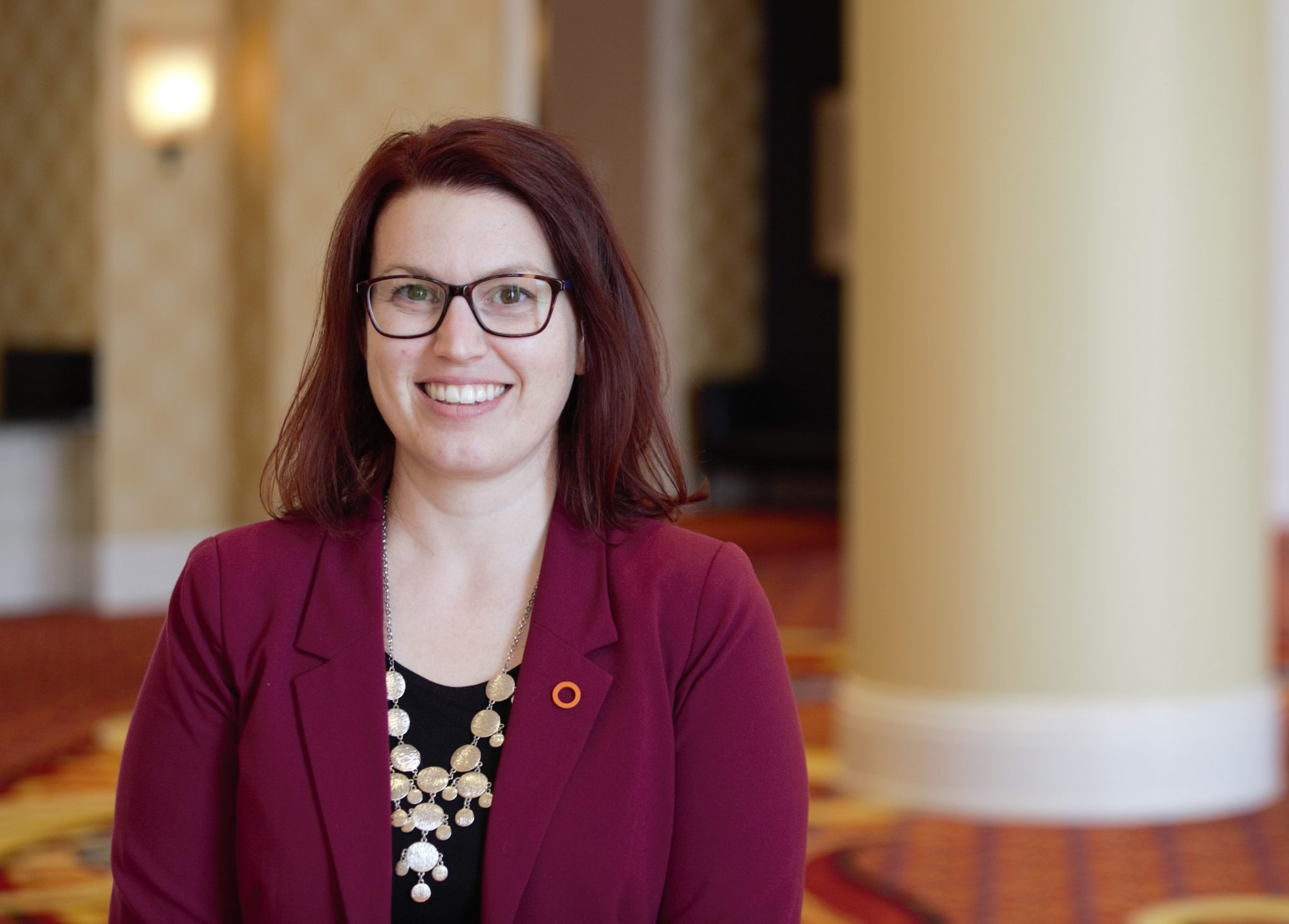 For Jenny Amos, her love of STEM and passion for teaching have taken her all over the world. An associate professor for bioengineering at the University of Illinois at Urbana-Champaign (UIUC), she's utilized a longstanding partnership between UIUC and Njala University in Sierra Leone to enhance learning opportunities and resources for students at both universities.
Amos hasn't always been the globetrotter she is now—in fact, she had never left North America before accepting a Fulbright in France, but throughout her journey, no matter where her bag was unpacked, she's maintained a keen interest in global health. She cultivated this interest while living in France, where she created a master's level program between engineering and medicine at Ecole Centrale de Lille.
"Having the experience of actually living in another country changed everything for me," Amos reflects. She had never left the continent before her Fulbright in France, but Amos now encourages all of her students to travel internationally and experience other countries. "It changes the way you think about everything."
Illinois faculty helped found Njala in 1964 with the support of a USAID grant. Named after the small village in which it resides, it is now the second largest university in the country. Amos loved seeing the global impact she could have, so when Illinois' Global Health Initiative (GHI) approached her about an opportunity to travel to the small West African country of Sierra Leone to mentor faculty and develop curricula at Njala University, she dove right in.
Amos began her work there in 2009 and visits once or twice a year (a feat with two school-aged children at home). It was during one of these regularly scheduled capacity building visits in 2014 when Ebola entered the country, abruptly cutting her trip short.
"We were basically forced out of the country," Amos explained. "Because we are U.S. citizens, we were all pulled out and were back in the U.S. the very same week."
This was the first confirmed case of Ebola that Sierra Leone had ever seen. Unprepared, the country quickly found itself at the epicenter of an epidemic.
As the crisis deepened, the country of 6 million closed its schools, enacted a "no touch" rule and deployed troops to contain the virus from spreading. By the time the World Health Organization (WHO) finally declared an end to the worst Ebola outbreak in world history, the virus had killed 11,315 people around the world. Four thousand of those deaths were in Sierra Leone.
In it for the right reasons
When the travel ban was finally lifted, UIUC faculty were some of the first back in the country. Though other areas of the country were hit much harder by the virus than Njala, university and village residents were still surprised to see Amos and her colleagues when they returned.
"They were so happy that we didn't get scared away and that we're still committed to working with them in continuing this partnership. They know that I'm in this for the right reasons," Amos recollected fondly.
Now, the village of Njala feels like a second home. Amos has become a recognizable figure in the community and has expanded her work at the university. In addition to helping to create curricula and mentor faculty, she's taken on two Ph.D. students in Computer Science at Njala, who she Skypes with regularly.
She's mentoring them on their big postgrad project creating electronic medical records for everyone in the country. And, Amos and her students are working directly with the Sierra Leone Ministry of Health and the U.S. Centers for Disease Control and Prevention (CDC) to make it happen.
"It's a big deal," Amos said. Exams at the graduate level involve presenting research to a review committee. When it came time for her Ph.D. students, almost everyone on campus wanted to come see their presentations.
Amos explained, "They try so hard with all the resources that they're lacking, and so I try to provide everything I can to them." When they couldn't get access to articles, she brought in the UIUC library, which set up free licenses and access to journals.
"It's amazing the things that happen there – Everyone's pouring everything in to help them get better because they want to get better, so we just bend over backwards to help." Amos proudly added, "These two Ph.D. students, they're going to make a huge difference in their country."
"Jenny ABET"
Jenny has always been the type to go out of her way to help. In 2010, she was assigned to build an entire program at UIUC from the ground up. To do so, her first steps to learning about ABET accreditation and the assessment processes was like most. It started with an IDEAL workshop in Baltimore.
To further her deep dive into assessment, Jenny applied to become an ABET expert. She figured the best way to learn how to assess your own program is to learn what to look for in other programs.
Jenny has this way of making the most complicated things sound easy. She put things into perfect perspective for everyone to understand. It makes sense when you see her facilitating ABET workshops and leading some of the most popular ABET Symposium sessions.
Her drive and her desire to expand global learning has led her to several corners of the earth. She takes the information and knowledge she has acquired firsthand and uses it to provide guidance and help to others.
Fast Facts
2011 IDEAL Scholar

Faculty Liaison for BMES student chapter at UIUC

2018 ASEE Illinois-Indiana Section Outstanding Teaching Award Recipient

Member of a running group called "The BioRUNgineers"