Baltimore – On October 16, ABET held the ABET Awards Gala to confer its highest awards. One hundred and forty guests were invited to the Hyatt Regency in Baltimore's Inner Harbor to celebrate the achievements of some of ABET's most dedicated Experts and individuals that are taking huge strides in bringing diversity to technical education.
Though this is not the first awards banquet that ABET has held, this year featured a new format to align the event with ABET's larger brand initiative. The revamped gala brought in awardee videos, live music, and engineer/television host Deanne Bell to host the evening. All in an effort to enhance the importance of these awards and the work required to achieve them.
The following awardees were honored:
Joseph L. Sussman – Linton E. Grinter Distinguished Service Award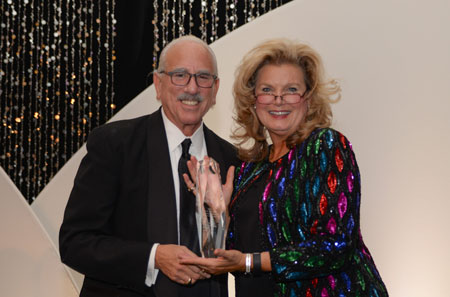 "For exemplary leadership in the conception, development and planning of outcomes-based accreditation, and for outstanding organizational and business leadership in ABET's strategic decision-making, during his more than 25 years of service to ABET. These contributions have had significant impact on ABET's financial health, worldwide influence, and governance."
Joe Sussman is ABET's Chief Accreditation Officer and CIO. A world-class expert in accreditation, he has spent 28 years with our organization and 22 of those as a volunteer.
Rising from a program evaluator for ASME in 1987 to ABET President in 2008, Sussman has participated in every level of accreditation. Over that tenure, he played major roles in some of our organization's most historic achievements, launching outcomes-based accreditation, developing international accreditation, and securing our present financial stability.
Learn more about the Linton E. Grinter Distinguished Service Award >
Karan L. Watson – ABET Fellow Award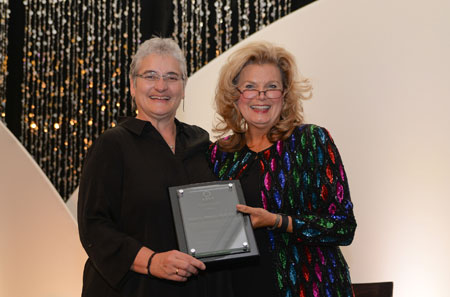 "For exemplary service and leadership as a Program Evaluator, Engineering Accreditation Commission member, ABET Board member and President, and for leading development and approval of the revised ABET governance structure."
Karan Watson is the Provost and Executive Vice President of Texas A & M University, the fifth largest university in the United States with more than 64,000 students.
Watson became a program evaluator for IEEE in 1992 and served as an EAC commissioner on her way to becoming ABET President in 2012. Arguably, her greatest contribution came out of her role as Chair of the Governance Structure Task Force, where she was a crucial factor in successfully restructuring the ABET Board of Directors.
Learn more about the ABET Fellow Award >
Winston F. Erevelles – ABET Fellow Award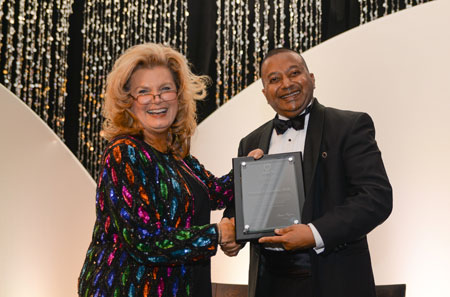 "For outstanding leadership during significant growth of the Engineering Accreditation Commission, for revising materials and processes to improve the accreditation experience for commissions and institutions, and for significant outreach on behalf of ABET."
Winston Erevelles is the Dean of Science, Engineering, and Technology at St. Mary's University, in San Antonio, TX. In his sixth year as Dean, he is leading a $42 million initiative to grow the school's faculty by 50% and add new stem majors across the board.
An ABET Expert since 1998, Erevelles has become an indispensable leader in the EAC and his impact can be seen throughout the commissions. During a period of unprecedented growth, he led crucial initiatives to replace costly, inefficient paper documents with electronic solutions. As EAC Chair, he oversaw the largest expansion in commission history, adding 24 commissioners while establishing the first standing Continuous Improvement Committee.
Learn more about the ABET Fellow Award >
Lynnette D. Madsen – Claire L. Felbinger Award for Diversity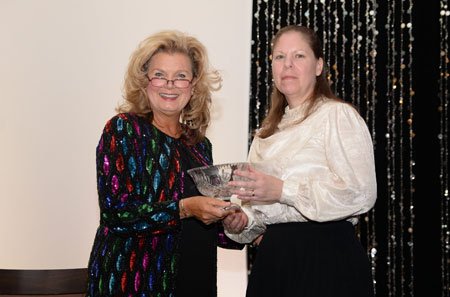 "For her role in establishing best practices to engage members of underrepresented groups, initiating recognition for mentors, and supporting minority graduate students and career-life balance."
Lynnette Madsen is the Program Director of Ceramics at the National Science Foundation. In this role, she has been responsible for more than 500 awards with a combined value of over 165 million dollars.
To date she has published nearly 100 journal, conference and magazine articles; been awarded two patents; and delivered more than 85 invited scientific or professional talks. Her first two books: Inspirational Profiles of Successful Women: 100 Ceramic and Glass Scientists and Engineers and Materials Research for Manufacturing:  An Industrial Perspective of Turning Materials into New Products are set to be released this year.
Learn more about the Claire L. Felbinger Award for Diversity >
North Carolina State College of Engineering, Women and Minority Engineering Programs – Claire L. Felbinger Award for Diversity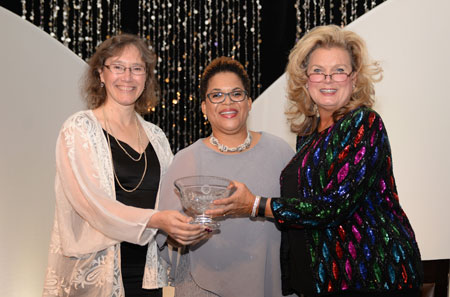 "For their success in the development and implementation of programs that focus on the recruitment, retention, and graduation of women and minorities in engineering."
The College of Engineering at North Carolina State University is a world leader in attracting women and minorities to engineering and a pioneer in programs to retain them.
Directors Angelitha Daniel (Minority Engineering Program) and Laura Bottomley (Women in Engineering Program) used years of research to develop programs that would entice underrepresented groups to pursue engineering and to follow the programs to graduation. They found that the most critical aspect of keeping students in the program was creating a welcoming environment that facilitated their transition to college life.
Since 2004, the percentage of female students in their freshman class has nearly doubled, and they are now the sixth highest producer of African American graduates in the country.
Learn more about the Claire L. Felbinger Award for Diversity >
_____________
About ABET
ABET is a nonprofit, non-governmental organization with ISO 9001:2015 certification. We accredit college and university programs in the disciplines of applied science, computing, engineering, and engineering technology at the associate, bachelor, and master degree levels.
With ABET accreditation, students, employers, and the society we serve can be confident that a program meets the quality standards that produce graduates prepared to enter a global workforce. For more information visit www.abet.org