Linton E. Grinter Distinguished Service Award
About the Award
The Linton E. Grinter Distinguished Service Award honors an individual whose rare commitment and enduring impact has made ABET a better organization.
For this reason, a Grinter Award recipient may not be chosen every year, only when the discernable influence of one ABET Expert's tenure warrants singular recognition. Their achievements are not year-to-year, they span decades and have shaped the course of our work.
The award is our highest honor and the contributions of its recipients define our organization.
Linton E. Grinter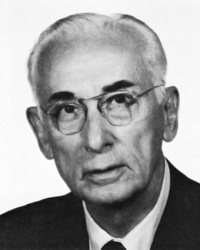 In 1972, Dr. Linton E. Grinter received the first Distinguished Service Award from ABET's predecessor, the Engineer's Council for Professional Development (ECPD). To convey the lasting impact that his achievements would have, the award was immediately renamed in his honor.
Dr. Grinter was an outstanding leader, as a member of ECPD and as an academic. Among his many achievements, he chaired the committees that produced three reports that have had major effects on engineering education: (1) the 1945 Manual of Graduate Study in Engineering; (2) the groundbreaking 1955 Report of the Committee on Evaluation of Engineering Education, now known as "The Grinter Report" —a major work in the development of engineering curricula that outlines specific objectives for both the technical and humanities areas of study necessary for future engineers; and (3) the 1972 Report on Engineering Technology Education.
His professional career spanned over 50 years and included many awards and honors from his peers. From 1963-1967, Dr. Grinter served as Vice President and President of the ECPD. His powerful insight into the future of the engineering profession was not merely felt by the ECPD and the engineering education of his time; his enduring legacy continues to shape our work throughout technical education and across the globe.
Recipients of the Linton E. Grinter Distinguished Service Award are ABET Experts who follow in Grinter's footsteps, surpassing the highest expectations of effort and commitment. It is our organization's highest honor.
2021 Winner
Frank Hart

For extraordinary contributions to ABET in advancing accreditation of academic programs in STEM disciplines. He led the Engineering Technology Accreditation Commission's (ETAC) adoption of outcomes-based accreditation. His work with the American Society for Engineering Education, the National Forum of Engineering Technology and the National Academy of Engineering contributed to a substantial increase in the number of ABET-accredited engineering technology programs. He participated in approximately 48 ABET visits as a Program Evaluator or a Team Chair and served as the Team Chair for the first ETAC visit outside the United States.
Frank Hart serves as Adjunct Accreditation Director for Engineering Technology Programs for ABET, Inc. Prior to joining ABET, he served as dean of the School of Engineering Technology and Computer Science at Bluefield State College.
He is a graduate of Virginia Tech with a B.S. and M.S. in Civil Engineering. He is a licensed professional engineer and surveyor in Virginia.
Hart is a member of ASCE, NSPS and ASEE, and an honorary member and past president of the International Society for Mine Surveying.  His activities in these organizations include numerous publications and presentations. He is a Fellow of ABET and ACSM.
His consulting experiences have focused on site development, geotechnical engineering, construction management, surveying systems and ABET evaluations.
During his spare time, Hart coached Little League Baseball for more than 20 years and served on many community development committees.
Currently he enjoys golf, genealogy and family history research and traveling with Carol.
Award Benefits
The award winner will be honored during the ABET Awards program in the fall. The recipient will also be featured on our website and social media pages as well as recognized in a press release.
The Nomination Kit
The Linton E. Grinter Distinguished Service Award, like all other ABET Awards, is given to a nominee selected by his or her peers. To learn more about the process and criteria involved, or to nominate one of your peers, please review our nomination kit. The deadline for nominations is April 20, and only complete nominations with references will be accepted.