Brightspace, a product of Desire2Learn (D2L), is ABET's learning management system. All training for volunteer experts is housed within Brightspace. Follow these steps to access your courses.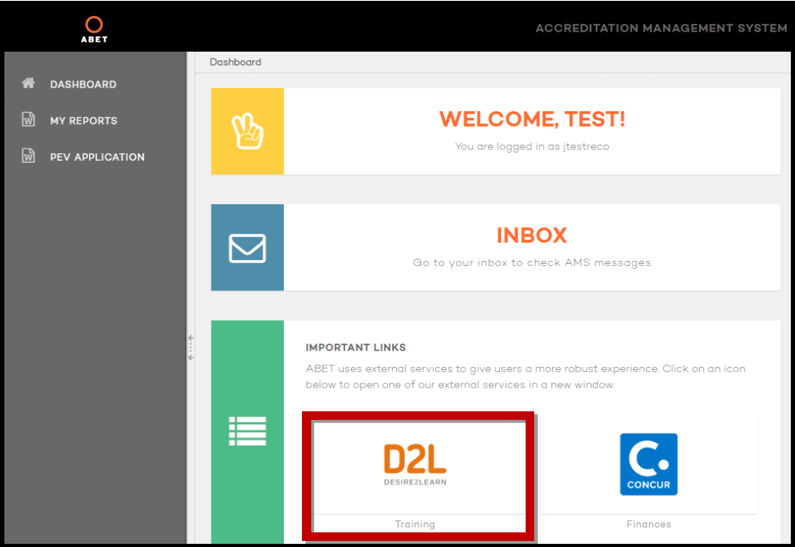 Authorization Errors & Technical Issues
If you are experiencing technical problems, or receive an authorization error, consider your browser first. Most of the problems people report are related to Internet browsers, not the AMS or D2L.
First, logout of your ABET account on your device(s) and close the browser window. When you log back in to your ABET account, reload the page. If this does not resolve your issue, please try the following troubleshooting options.
Check your system compatibility: https://community.desire2learn.com/d2l/systemCheck

Browser recommendations. We recommend using Chrome or Firefox. There are known issues with Safari. Additional information for supported browsers are detailed here: Browser support (brightspace.com)
Switch to a different browser. Regardless of the browser you use, the best first step is trying a different browser.
New Incognito Window. Open a new incognito window because that avoids the cache. If this works, it means the cache needs to be cleared.
System requirements. Ensure that JavaScript and cookies are enabled in your browser. Adobe no longer supports Flash Player and blocked Flash content from running in Flash Player. For more information, see: https://www.adobe.com/ca/products/flashplayer/end-of-life.html.
Contact ABET. If the issue persists, email training@abet.org. 
Brightspace Orientation
If you're new to D2L, or would like a refresher, this orientation is the best place to start. This self-paced course is available throughout the accreditation cycle for your reference.
Access Brightspace Orientation
All Brightspace learners and mentors automatically have access to the orientation course.
Brightspace Orientation is listed on your Brightspace homepage under My Courses.
Click the course to access the modules and instructional guides.