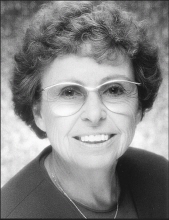 We were saddened to learn of the passing of longtime ABET Expert Elinor Pape on October 21, 2022. Pape's involvement with ABET began as a program evaluator in 1973 and was honored as an ABET Fellow in 1996. She was also a visit team chair and report team chair in addition to her role as chair of the Engineering Accreditation Commission.
Pape was born in Wausau Wisconsin in 1936, spending her childhood in Pittsburgh, Pennsylvania and Crossett, Arkansas. She received a bachelor's degree in Industrial Engineering at Southern Methodist University, where she was the first female admitted into the SMU Engineering Honor Society. She also completed her master's and Ph.D. degrees in Statistics at SMU.
After completing her Ph.D. in 1971, Pape joined the faculty of the University of Texas at Arlington where she was an award-winning teacher, rose to the rank of Full Professor and upon retirement named Professor Emeritus. She retired from teaching in 1998 after which she enjoyed numerous interesting consulting assignments.
Pape was a noted expert in her field and authored and contributed to textbooks in the field of applied statistics. She was a Fellow of the Institute of Industrial and Systems Engineers and prior president of the Society of Women Engineers.
We are very grateful for the dedication and time Elinor Pape gave to ABET, and she will be missed. Read her obituary here. In lieu of flowers, donations can be made to the Elinor Pape Endowed Scholarship at UTA IMSE Department.