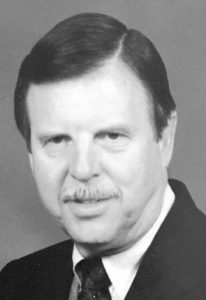 We were saddened to learn of the passing of Richard (Dick) A. Kenyon, Ph.D., on April 16, 2021. Kenyon was a distinguished mechanical engineer, dedicated ABET Expert and long serving member of the American Society of Mechanical Engineers (ASME) and the American Society for Engineering Education (ASEE).
Kenyon was born on April 8, 1933, in Syracuse, New York. After earning his B.M.E. from Clarkson College of Technology, M.S. in thermal engineering from Cornell University and Ph.D. in mechanical engineering from Syracuse University, he entered academia and went on to hold prestigious leadership positions at several universities. He retired in 1997 as Dean Emeritus of the Kate Gleason School of Engineering at Rochester Institute of Technology.
Kenyon was a Professional Engineer in New York State and named "Engineer of the Year" in 1975 by the Rochester Engineering Society. His service and contributions to engineering education were recognized by his professional societies, awarding him the distinctions of 1978 ASME Fellow and 1989 ASEE Fellow.
Kenyon served as an ABET Program Evaluator and Team Chair representing ASME and ASEE. He joined the Engineering Accreditation Commission (EAC) of ABET in 1986 and led the commission as 1993-1994 EAC Chair. He also served on the ABET Accreditation Process Review Committee (APRC), an ad hoc committee established to guide ABET's efforts in the restructuring of its accreditation process.
Throughout his career, he demonstrated a commitment to enhancing engineering education, and his passing is a loss for the professional community. We are grateful for the time and expertise Richard A. Kenyon gave to ABET, and he will be missed. Read his full obituary here.